Hello Lola.
No matter how dark a night can be, the smallest light can break it.
Sometimes there is the most glorious flash of light that lets you see right into the future.
Lola-Mae was such a light today. She was born, on her due date at 5pm. How very timely of her.
Truth be told she has been a bit of a stinker, she has had her mummy believing everyday for the last 3 weeks that THIS is the day. Oh poor Mel, contractions and back aches and every sign under the stars that THIS IS THE DAY. It is a SIGN!
We have been back and forth to the hospital, we have waited for midwives, she has had sweeps and more sweeps and has, I suspect, the cleanest and most well kept and swept cervix in all the land. A cervix made of steel that was not letting that baby out early, nope, no matter what you try ( reflexology, hot spicy food, walking for hours and miles) That baby was not for shifting.
Until today.
Mel went for her midwife's appointment at 12.30 and she had another sweep, at 1pm she called me and she said " My waters just broke in the shop..I can't walk, can you come and get me?" So I did, although she waddled damply back to her midwife who said that indeed her waters HAD broken ( although there was no doubt there was a veritable flood) she said that she didn't need to go to the hospital yet, not until the pain was bad and she was contracting every 5 minutes or so.
We drove to Mac Ds and her contractions had already started, she laughed as one finished just as we got there and said that she was happy that had ended in time for her to have a cheeseburger. By the time the cheeseburger arrived her contractions were every 3 minutes and she was really feeling them, no messing about or wondering if these were real, we had time to run into a supermarket, grab some drinks and some new clothes and drive to the hospital.
We arrived about 3.00 and it was obvious that at last this baby was coming, for real and soon. We looked at the clock at 3. 30 and said " We'll expect her at 5 then"....and laughed because that was quick, wasn't it?
At 4pm she was 8 cms and she asked for drugs, anything, something just give her anything because this was so awful, at 4.20 she said that there was no point in having drugs because she wasted to PUSH AND SHE COULDN'T NOT PUSH! She was fabulous and Jordan was fabulous and I wasn't needed at all.
I am so proud of these people. I am so honoured that I could watch that little girl be born. I love to see how my son loves his wife, I love how gentle he is and how kind he is, how he truly just wants whatever makes her happy. I loved seeing how he knew by just a hand signal what she was telling him. ( although to be honest, some of them were pretty easy to understand!) I loved watching how she held onto him as she pushed and as she tried not to push.
Watching that huge man cry when his daughter came into the world is something that is priceless to me and I am so grateful that they let me see that. I did feel, today, as if I was somehow intruding, I tried not to and I stayed out of the way taking a few pictures that I knew Mel would treasure later, they made her cross at the time as she yelled "What are you doing? What are you taking pictures OF?" and I would say " nothing awful, you'll be glad later" and I think she will be.
So now I have a grandson and a granddaughter and I know just why they are called 'Grand' Oh they are so grand. There is nothing MORE grand let me tell you. I had no idea and then Josh was born and I was so gloriously surprised and I am still endlessly thrilled with just how grand it is to be a Gramma. He adores me you see, that little man and I so hope that Lola does too, as she gets bigger. I drove past their house this week and I tooted the car horn and then I had to drive past a little way to park. As I opened my car door I could hear his bereft sobbing because he "saw gramma, where IS gramma? Josh saw gramma's car, I WANNA SEE GRAMMA!!!" and he is always SO pleased to see me. People don't need dogs to get that unconditional love thing, get a grandbaby.
Do you want pictures? What?
Ok, here they are......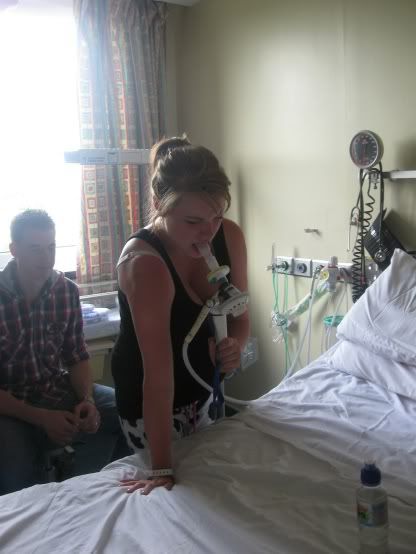 Laughing gas...which did not make her laugh, this was a fast and furious labour, no laughing allowed.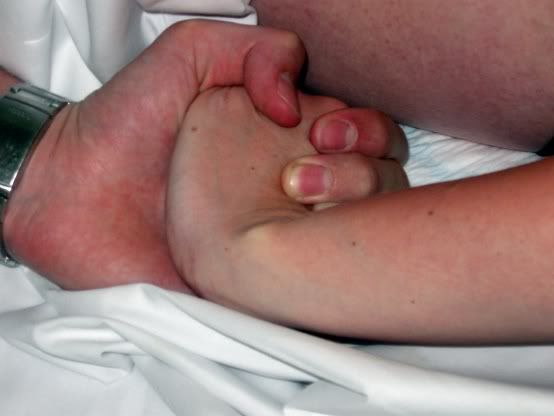 Can you see that love? Look how she needed him and how he held on to her as tightly as she held onto him.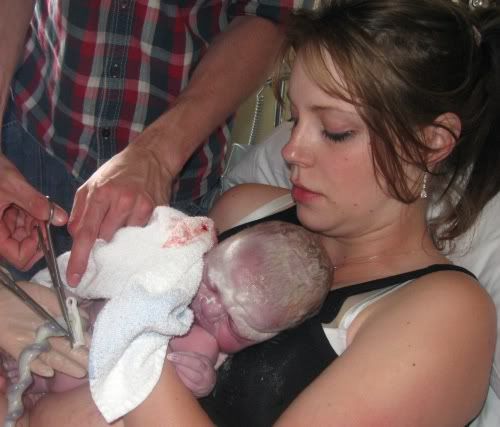 Brand new and daddy cutting the cord.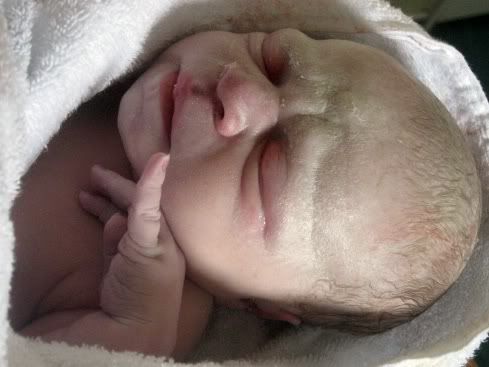 Sweet Lola-Mae, we love you so much already.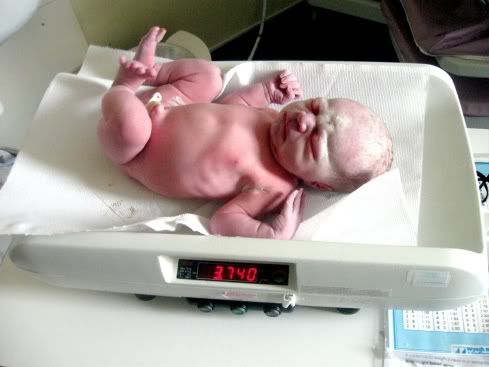 All 8lbs 4oz of you.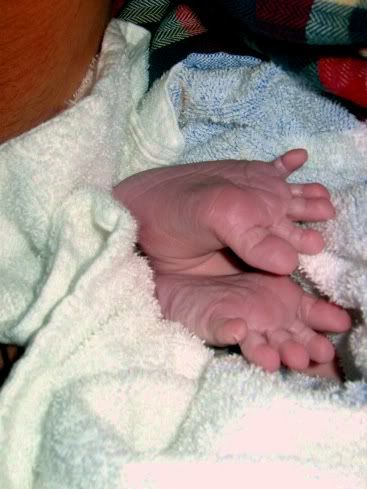 Anybody able to resist tiny brand new baby feet does not have a heart.
I have a heart and this little girl is already so deeply wrapped around it, Hello Lola-Mae, welcome to our family. We love you.
Labels: grandbaby mine, Jordan, Lola, Mel