Farewell my trusted friend.
Amazing how we can become all wistful and winsome about something when you don't need it anymore, isn't it?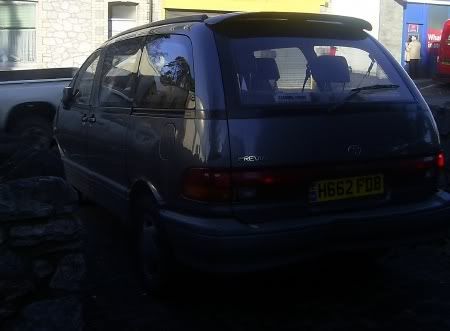 Our dear old car ( previously known as the crap heap) left today, on the back of a trailer, where she is going to be fixed up and sold on. I will admit to feeling a bit of a lump in my throat as I watched it being driven across the road to the trailer.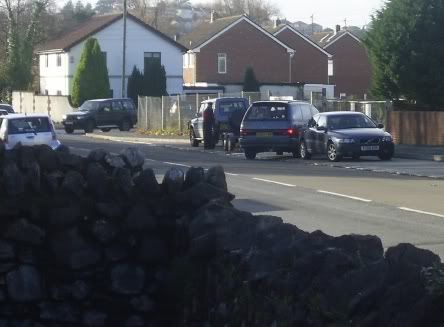 We waited until it was loaded onto the trailer and then I couldn't watch anymore.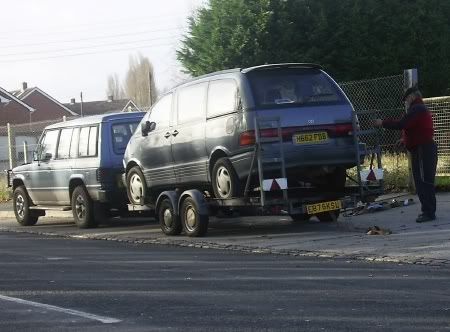 ( look at dear old boy in track pants.....salt of the earth, same man who did all the work and brought us shiny black car bought crappy old car, hoorah! he wasn't the man that freecycled it though)
That old car has served us well ( and cost us a fortune!) it has moved house for us FOUR times, carried sofas and
fridge/
freezers, people and more people, it has dumped garden waste, carried gravel and somehow managed to get us from A to B and back again with remarkable reliability.
It will be missed by many because we have been the picker uppers in the family. We have collected bed and carpets and all manner of bulky and useful things for many people.
I am still in awe that we got the new
freda
freecycle
car right before the old one died it's
timely
death. I put £15
petrol
in the new one and having done 35 miles the gauge seems to hardly have moved, with the old one we'd be on empty by now. Glorious.
Isaac is in full door mode, poor little git, he is almost exhausted by this
compulsion
to open and close doors, he was just beginning to feel more relaxed with mum's car and now has to start all over again, as if that wasn't bad enough, he has to contend with the radio ( turn it on, turn it up, turn it off, turn it back on, open the door, close it, climb through,
oooooh
electric window must open it, shut it, open it, turn the radio UP please, check that door is locked, open, shut,
ARGH
!!!!!!!) I was close to nervous breakdown and was biting my tongue, til his little voice said " I actually can't help having to open the doors but I am nearly used to them" It was then I realised that he truly cannot help having to do it. I remember when we first moved into the lovely town house he was a door slammer, and when we went to stay in the caravan he hardly had time for fun at ALL with all those new doors to open and shut.
So, we have a lovely big driveway with just the one mid sized car. Happy me.
Just to make sure we're not TOO sad about the old car going, the new one smells of wet dogs. Wouldn't you know it. It needs a good airing and scrub through, we cleaned it and shined it but it has been sitting for months with nobody loving it and opening the windows ( ISAAC! We NEED you!)
We shall spoil it when we get home, it will sit outside Uncle Barry's house, while we are home, getting a complex and asking itself WHY? Why does everyone leave me? Why do I get dumped outside and ignored, where is that little boy that so promisingly opened and shut my doors and windows and clapped his hands with glee at my radio? Where is that lady that told everyone how shiny I am? What did I do wrong?
And then we will come home and it will be so happy it will run like a dream and keep itself shiny, even make itself smell fresh and clean and
ne'er
a whiff of wet dog shall ever be detected.
The End.