Laughter is the best medicine....
And I have had an overdose this past few days. Some real, honest to goodness belly laughs, the very best kind.
Sophie came 'round yesterday, straight from a night out. She was happy and perfectly sober but just smokey and night out smelly. I put up with it for about half an hour and then told her to get changed and put her clothes in the washing machine, off she went to do as she was told ( !) and came back wearing a pair of Seth's boxers, a t-shirt that fit like a belly shirt and a pair of pyjama trousers, very stretched and just above her knees.
Eli has a rotten cold and a hot head, snotty nose and is miserably poorly. He and I stayed home from church and so Sophie kept us company. When the rest came home from church they noticed ( immediately) that she was wearing their clothes, Eli thought it was hysterically funny, Seth was a little amused.
Sophie said " yeah but LOOK! Seth! your boxers! HA HA!"
"
ewwwww
, Sophie, I can't believe you did that"
"Oh, Seth, it's not even as if you care!"
"Well, actually, yes I do...I'm really rather passionate about my undergarments!"
I wish you could see him , I can't get pictures to show just how he is, he is like a little sparrow with arms the thickness of twigs, his little face is like a pixie and when he goes to get new glasses he has to have them ordered because his 7 year old face is so tiny.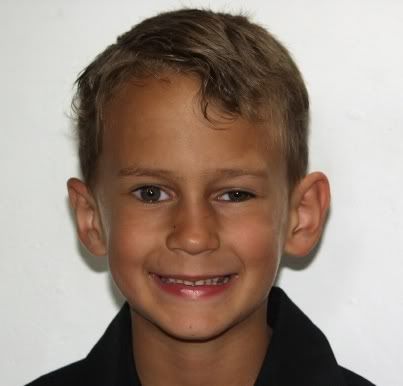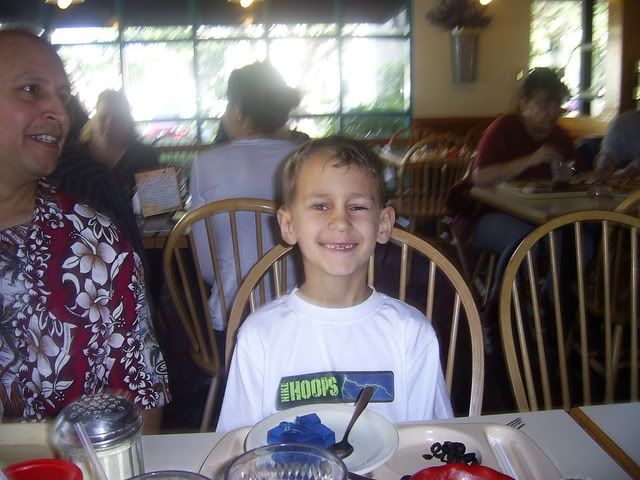 His hair curls in all the wrong places, his has a huge forehead because his brain is fighting to get out and show the world how full of facts it is. He is the sweetest little nerd on the block, then he opens his mouth and this 'stuff' comes out, he is a genius at getting things spot in, his timing is impeccable, he can answer back like the most accomplished teen ( heaven help me) and he forgets nothing. He astounds me every day.
He came home from school with a 'Great Maths worker' sticker on his sweatshirt, he scored 100/100 today. Brilliant.
Mel is in hospital, another
UTI
, poor girl, when she comes home we'll be driving her crazy with the 'drink your water' nagging. Anyway, I took Jordan to see her today and she went through the bag of goodies he took and, pulled out a banana held it up and all 3 just laughed and sputtered.......so they had to tell me what was so funny.
Mel doesn't see to much of her dad, he has issues and is somewhat estranged from the family. Last week, Mel, her brother and her mum were sitting outside a restaurant in town, her dad saw them and sat down to chat with them. The exchanged pleasantries, had polite conversation as you do. Mel, trying to fill in a gap in the chatting, put her hand on her mum's arm and said
" Dad, this is Nana...what are you going to be?"
"Huh? Oh,
errrrrr
, I'll be a coconut"
Stunned silence, til Mel twigged and said " I said NANA not BANANA!!!"
You just know that he will never be grandad now don't you, he will always be Coconut. Which is more than splendid. I kind of hope my name finds me, I can't be Nana because
Mels
mum wants to be that too and it's confusing unless you start the Nana Helen thing, nope. Grandma just doesn't feel right at the moment because that's MY mum. Nannie is sweet but I used to be paid to be a nanny and I want to be something new to my
grandbaby
. I hope that the name just fits when the baby is here. Whatever I am called I am going to love that baby to bits and then hand it back again...that's enough to make a nowhere near old enough to almost be a
grannie's
heart soar.
Labels: funny stuff