T'was just like the war....
What fun we had, when at 4pm the electricity went out. We did that stunned looking at each other thing, ( we'd been watching a movie and actually all enjoying it too, darn it) then I got a flashligti and checked the fuse box.....hmmmmm, all is fine, what the dickens?
Then we looked up and down the street, looked a bit dim but it wasn't dark yet so hard to tell if there was no power or if we are the only people actually at home or not.
" Go to Derek Wrights and ask if they have power" I said to H. So off he went to the neighbour a few doors down, as he got half way down the street a few other men came out( can just hear their wives saying " Go out and ask......." )
" You got 'Lectric?" "Lectric out?" " I got no 'lectric!" " DO you have power?" ( Bless my American husband and his foreign sayings!)
So, no-one had electricity, this reminded me of a time years ago when just the same thing happened and my sister and I were convulsed by the men in the street yelling " you got Lectric??" so of course, I called her to share my happy memory, she picked up her phone and before I had a chance to ask her she said " HEY! You got 'lectric??" Turns out ( because her gas man told her his wife had called from several miles away), the whole darn town was out, not a bit of Lectric to be had by crikey.
It was almost fun, we found all the flashlights and even cracked open the wind up torch, which Isaac drooled over and has barely let out of his sight since, the boys had a candlelight bath which is always a treat.
We had phone calls and neighbours knocking, I almost felt the need to put up bunting and throw a street party, such was the cameraderie, H was excited to be able to just use his iPod because he had to, not because he wanted to..he was going to find a movie and watch it and it was going to be fabulous!
I sort of wanted to rush to the supermarket because last time, when the power went out, there was such confusion that the cashiers were told to ask the customers how much their groceries were and just take that much cash, the tills were all out of whack, was too lazy to try it though so we stayed home and enjoyed candles and torches and the very thought of watching a movie on a 4 inch screen.
The 'Lectric came on after about an hour, we were relieved and people could be heard saying
"It's BACK! It's on again!"
I was a little sad to see just how much we rely on things like electricity and modern new fangled fripperies, I thought about sitting by the wireless while the gas mantle popped ( no, I was not around during such moments unless you count the holiday at Nana Collins' caravan at Watchet, which had gas lights, pop pop) I thought about how close you would be without all the noise that modern day living brings, one wireless that everyone listened to, a book, singing around the piano if you were posh. Sometimes, progress isn't always a good thing, is it?
Today was a lovely day, we spent the whole day together as a family, we all went to the park, we all had lunch together, Sophie was here too, I just felt as though we held onto time today, didn't lose any of it rushing around doing nothing.
I got some great pictures today, but our internet is being bloody minded and driving me crazy. I can't get into Photobucket, nothing will download, darn it all. Will have to come back and add them later.
Oh look, it's later....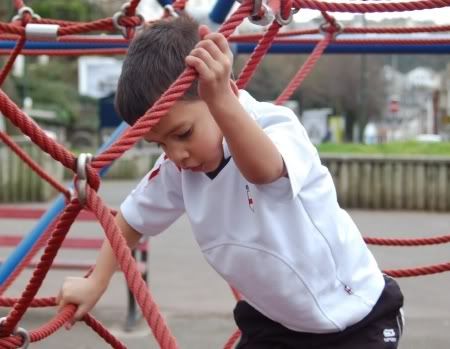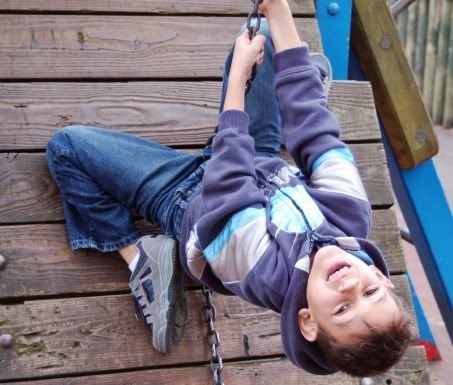 OUCH those shin scrapes are a bugger aren't they?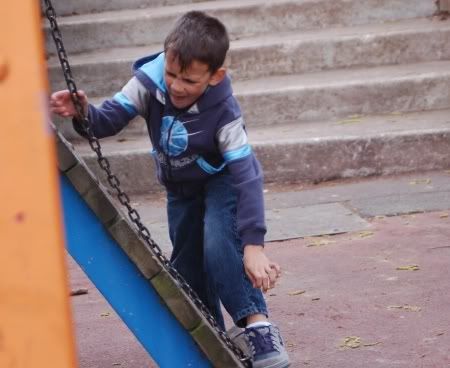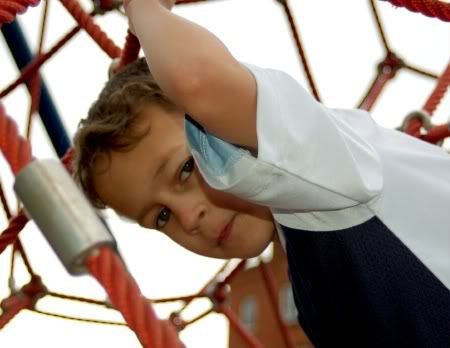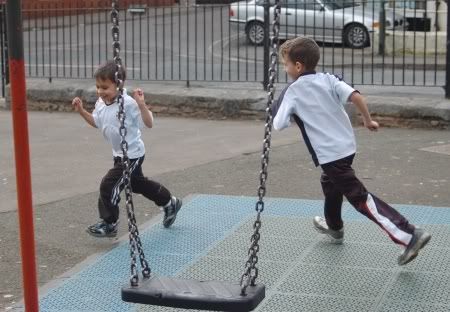 Pitiful little face ' betoz nobody doesn't tum on here wiv me and I hate it on my own'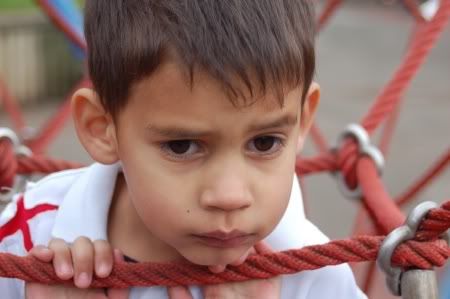 Labels: happy stuff