Who wants to be a millionaire?
Today, at 11am my front door burst open and in came Dan, Jordan and Sophie. We were in the front room and as they charged in they each grabbed a little one, the noise was ear splitting and the joy, immeasurable. I don't often get all my eggs in one basket, so when it happens, like it did this morning, I am overwhelmed with happy.
Jordan and Mel moved today, from their flat into a dear little house just down the road.
When I see my children, working together, helping each other and just enjoying each other, it is tantamount to winning the lottery ( I imagine!) there is nothing else I need, nothing more I want. This is it.
When I see one of them willing to drive 200 miles to help another, when I watch one of my older children helping a little one, playing with and even instructing....you couldn't make my joy any greater if you gave me a gold clock.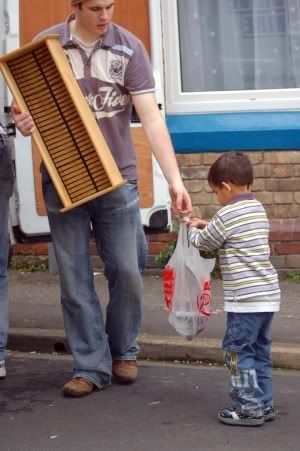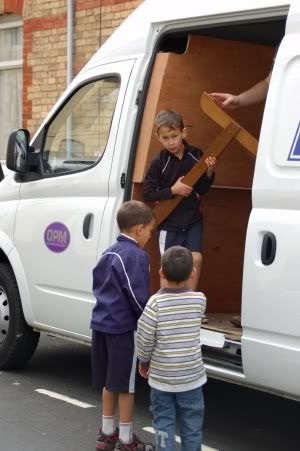 These little boys are so adored, so completely accepted and loved, I see the effect of that on their faces. I swear that there are times when an actual light shines out of them.
You can take your kids to the best photographer, you can dress them up, get the very best lighting, perfect backdrop.....you can get a fantastic picture.
Also, you can get a little boy, who is completely and utterly adored, send him amongst people who light up with joy at the very sight of him, you can let him go and let him just be, wearing his play clothes and his brother's girlfriend's shoes,
You can let your 6 year old go in a rental van with his 23 year old brother and watch the light on his face.
Allow your 7 year old to carry and collect from the van over the road, with his biggest brother...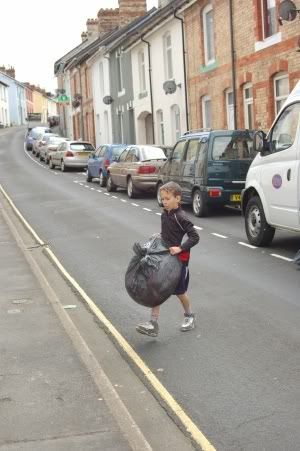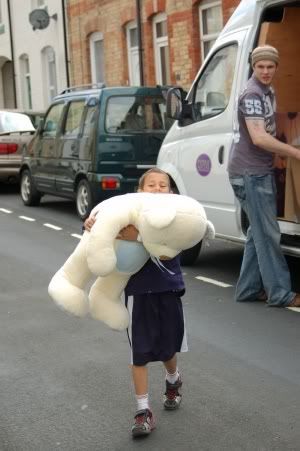 I think that one of my greatest joys is that my children are so kind. They ( of course) fight with each other ( though so much less the older they get) They look out for each other, they help each other without question. They are kind to other people too, the are known for their generosity, I love that.
H did take the boys out the other day, with empty bags and they played in the park and they picked up rubbish, they cleaned the park and pavements, Isaac is still talking about it ( Seth? "well, what on earth kind of outing will THAT be? Who ever picks up rubbish when they go to the park? Good grief!" But he
did
it and came home knowing what kind of person does just that and
he
is that kind of person. )
Kindness begins with me..is there a better lesson for your children to learn?
Millionaire? wouldn't say no, but really? I'm already rich.
Labels: family