That'll do for me.
My goodness, what a few days. I discovered that I am always going to be faced with demons. I keep telling myself that I am BETTER...look at me, all well, not a care in the world...yeay!
That's great because I am feeling that way more and more. I do know though that there will be times when things don't feel OK. What I have to work out is how to deal with it.
The little boys are getting bigger, really quickly. It seems every day they grow more, they want more independence, they are leaning more.
H is a great dad to these little people, he seems to know what they need when they need it. Bit by bit he is allowing them more independence, little things, allowing seth to run ahead on the last stretch of the school run. wow, big boy ( Oh Dear God, what if, in those 2 seconds someone is in a car right at the 'right' moment and they snatch him and then ....)
He lets them go around the corner to retrieve that lost ball, wow big boys ( Oh, oh but what if there is a pedophile that lives in that house on the corner or a workman with a white van waiting to grab him and take him away and never bring him back)
Tag rugby tournaments after school...wow, grown up, sporty boy ( but I don't know who else will be there and what if they actually hurt him and do unmentionable things to him while we are sitting at home thinking how great it is that he is so into these things?)
Every morning, instead of going back to bed, I make myself busy, laundry, cleaning, moving things, moving things back again...so that I see H come home and behave normally and then I know that no-one got lost in those 3 seconds, no-one was snatched and damaged, no-one is dead. Phew.
For a while there I was way back when, reliving how terrible it was to be rehashing and what if-ing, blaming and loathing, remembering how bad it feels to know that while your child was being abducted and abused, well you had no idea, you were going about your business as if there wasn't a care in the world ( and in fact I was at the hospital having a 10cm wound reopened, but what they hey, still had no idea what was happening to those boys.
Right back in 1990 hearing word for word what happened while I was oblivious. Remembering exactly how it felt to know that this was real, nothing could undo it, nothing I did stopped it. I was so careful, so cautious, so totally determined to do it all right, even doing everything I could....I didn't keep them safe ( and yes, I do know that actually, because I was at the hospital and I wasn't the one that put them outside...blah blah....none of that matters when the demons take over) So what control do I have now? With these children?
That has been my last week. Frozen anxiety attacks, unable to move or do anything but cry, very quietly so no-one sees. I can't let anyone see because they can't help, if they try and get it wrong...much worse, so all done so quietly. just to release that terrible hurt and then on we go.
Then, yesterday I got that video and can't you just see how my mum and dad were with us, look how gently they carry us and look at us, we were so precious and I knew, as I looked at that chunky little girl that was me, that I was so adored, so cherished and I still am.
At 6, my house was filled with people that are mine, huge big men people, little noisy boy people, grandbaby, big happy, well girl. Mine.
The front room was filled to bursting, bodies everywhere and in the middle, a chunky baby, with a face so alight with joy it was impossible to not feel it....he was so thrilled to be surrounded by all these big people, the noise was unbelievable and I looked at them and I saw just how happy these people are, I listened and I was overwhelmed by what I have now. What enormous treasure there is right here.
As quick as lightening all those terrible feelings went away. We can't change what will be, we can't alter what has already been, we just have what is, right now.
I'm sure that for always, I will have flashbacks to way back when, I hope that I can always do what I did this time, deal with it the way it works for me, when it's over explain to H why I was the way I was, bask in his calm back patting and thrive on the fact that right now...things are alright.
I have a flight to get through and only 10 days until Sophie and I have 6 days of fun and memories.
I took pictures today, of the loud ones and the littlest boy with the biggest smile....when I can get on H's laptop, if I can work out how to do it, I will post some. Priceless.
OK. so here they are, touble is...well you'll see, if you ( or I ) were hoping for beautiful posed pictures, you know, with gleaming smiles and tidy hair, everyone looking in the same direction....well good luck with that!
Take for instance, my saying " don't just all sit there...DO something!" You'd think I would know by now......wouldn't you?
but the laughing....there is so much of that, give me that over perfect smiles and tidy hair.
At least I got one picture of beauty, one of people looking serene and..... I didn't give birth to either of them.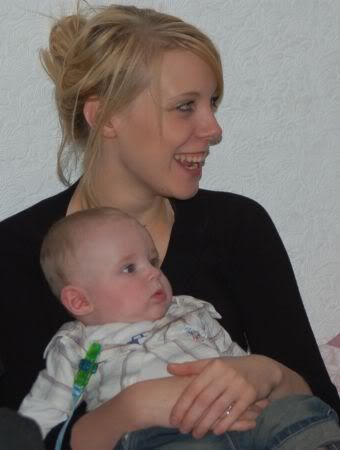 Labels: emotions