Phew that was lucky!
Emma tagged me ( I would link to her blog but she's private and unshowyoffy, unlike me, I am a tart for readers, show me some love!) Great to be tagged sometimes, especially when you are all out of blog fodder.
The thing is, I am supposed to print the 4th picture in my 4th album and talk about it...wouldn't you know MY luck...want to see what the picture is? Sure you do.
Wow....that's a great shot isn't it? What a dull picture. Amazing that it has me in tears isn't it? No idea what has got into me this week but the darndest things are making me cry. This picture is the view from our room at the barn, before we moved in. I stood in that doorway and took that picture and I simply could not believe that we were about to live there.
We moved out over a year ago, I still drive past it, often, I still long to drive into the crunchy gravel driveway and shut the gates behind me and shut out the world.
I want to park right here...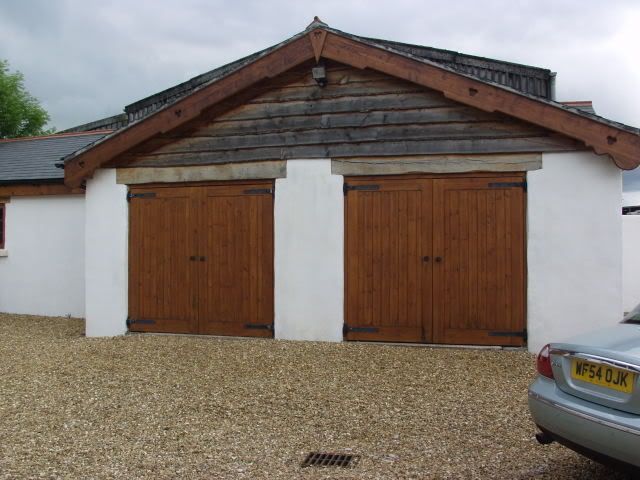 and I want to run up the stairs and see this....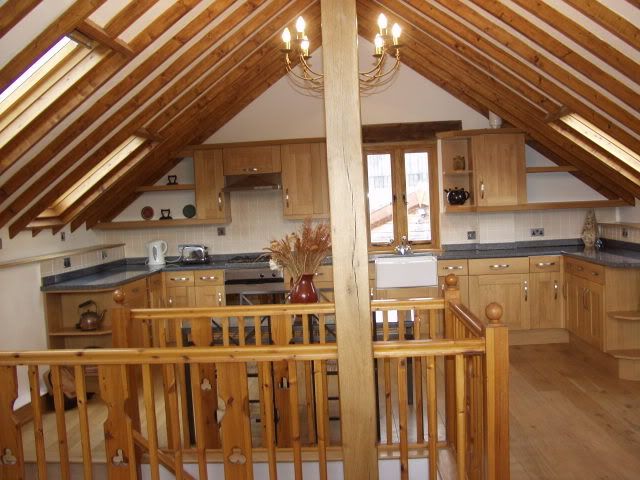 and this...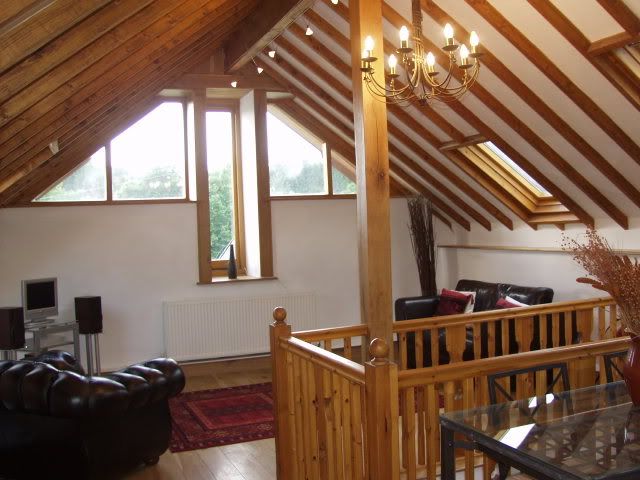 The barn was so posh, it was a dream home and I loved it there, not because it was posh but because for the first time in 18 years I felt safe. I slept every night, all night. I woke up happy, I loved coming home.
We had so many people over in the short time we live there. Our doors were always open and so many people came and ate with us, played in the garden, we had water days, bar-b-qs, birthday parties.
I would stand and look out of the window for the longest time because I loved what I saw.
The barn smelled so good, all that beautiful oak wood, I don't think I will ever forget anything about that house.
It is still unsold, we could still be there if the landlady from Hell hadn't pushed and shoved and sent us to the house of filth and stink.
The price is coming down because nothing is selling lately.....£329.000 now, £50,000 off the original asking price. Sometimes I make lists of what I would do 'if' you know, if dreams came true....and that house is always at the very top. Not a mansion, not a huge rambling house in acres of land...that one. I long for how that house made me feel.
Watching the boys running out in the 'wilderness,' all that freedom whilst so safe behind those 10 foot solid gates.
If that were ours, we would plant fruit trees, clear all the land and have it all available to play in, grow food, I would have a summer house for reading in, taking naps, painting. Right at the bottom left corner, away from the world.
I am pretty sure that this ridiculous rushing around and 'going' places would stop, I wouldn't need to go, because I would be home. I am so tired of feeling at a loose end.
People say that money can't buy happiness, but sometimes, I think it can. I do know that H and I consider ourselves blessed in that the only thing we DON'T have, is money. I mean that, I really do. There is nothing else I hanker after other than a home, in fact this home.
I am sure that somewhere, there are other homes that I would love as much, of course there are. It's the feeling I had in this one though that I crave. I have never felt that way, not since I was a little girl and was safe because I was with my mum and dad and had no worries.
I loved one other home, one in Wiltshire, when I was married to the first one.....I loved that home and loved cleaning it, making it beautiful, coming home to it, then the first one left, ruined it all, the boys were snatched from outside that house and my hell began. That was 18 years ago and from that day I have never felt safe since. Apart from that 8 weeks.
I loved the house in the town too, enjoyed making that home, I can't say we were happy there because so much anger was there, so much tribulation and stress. I walk past that house often and feel kindly towards it, but don't wish myself back there.
I wonder what it is about some walls that make a place home. Funny how different homes make different people feel as though they belong there isn't it? So many different abodes and each one has a family meant to belong in it.
I often walk into other peoples' homes and feel as though I belong. You can feel the spirit in it, feel the peace and comfort. I love that. I miss it for me though, I just can't seem to get it here. Actually things are improving here, little touches are making the difference, spirits are lifting.
So, Emma....look what you did! I'm glad you came to the barn and know what I am talking about..it's one great house isn't it?
Kind of makes a person feel like this...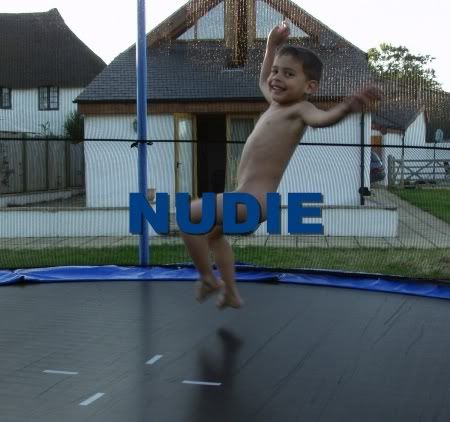 Labels: Home sweet home, memories