Out of the fog.
Today I did 2 things that just last week were so beyond me you may as well have asked me to fly, without a plane or even wings.
I washed my kitchen floor, actually moving things and sweeping and spraying and mopping, even drying and looking in happy wonderment because CLEAN and smelling of cleanness. Even better I did not need to sleep for 3 hours afterwards because, well i just washed the bloody floor what's the big deal?
I have been so much more depressed than I ever imagined.
Also, get this. I made with THREE little boys, chocolate nests with shredded wheat and melted chocolate and smarties eggs. Not only did I do that but we all had FUN. I did not shout or feel that my brain was effervescent and hurting, I had no thoughts of opening a window and jumping out of it. I didn't care that shredded wheat was crumbled over the floor and table, chocolate can spread SO far when 3 little boys have a bowl each and a spoon each and fingers each....didn't mind at all ( did have to stop Isaac licking the eggs before he stuck them in the nests, these are for school tomorrow, '
tis
the Easter fayre
hoorah
!)
Also ( another also, this is simply splendid is it not?) Mel is having a shower on
saturday
, her friends are throwing it, I won't be going because it is all teenage girls and noise and I am allergic to teenage girls and the noise they make and I want to hold onto the thought that Mel is one in a million and grown up for her age, if I have to sit in a room with many squeaky girls all saying HOW CUTE! and
AWWWWW
Bless every 3 seconds I might lose the will to live and I am doing so well this week. They really don't want me there either so we're all cool.
I am going to throw a family shower for her in a week or 3 and then I shall have all MY age people there and grandmas, we shall all eat a lot and say '
Awwww
Bless' but in a marvellous way, not a teenage getting on my nerves way.
But,
but
, because he is my
grandbaby
and I want to be involved and in there etc. I made a diaper cake, we don't do those here, if we did, they would be a nappy cake I suppose but we don't do them here, until today, I wanted to see if I could and I did.
It was a
fiddley
old job though, blimey. I am pleased enough with it and Mel loves it, it was raining so hard that I hated to have to go out again, I wished I had had more 'bits' to put on it, a little teddy and some more dummies (
paci's
) even some wipes maybe. Anyway here it is......I want to make more and think they will get better, it was fun!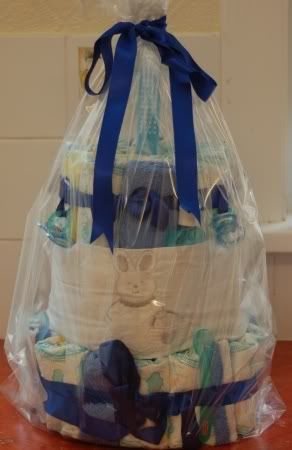 ( I redid it..added a few more bits, like it much more now!)
Three things in one day and not even a nap! Miraculous. I had no idea that the whole tribunal thing was weighing so heavily on my mind. I am so relieved that it is over. I still have the welts but I am ignoring them because stupid things, they are in my head, my head shall refuse to acknowledge them, they shall disappear without further ado, any day. My head is ignoring them but my scratching fingers are not, some things just have to be scratched and the scratching is painful in a good way,
ahhhhhhhhhhhhhh
.
I am watching a documentary on teenage mothers, while they give birth. It is meant to be hard hitting but it is actually very, very funny! Apart from the mothers who are watching their children give birth, the faces are saying it all. It is making me very happy that I am too old to have anymore babies, being a grandma is so much more refined. I very much enjoy making diaper cakes and dropping things off, with no heartburn or endless peeing.
Actually I am feeling sleepy and ready to curl up and get cosy on the sofa and watch these girls having babies and then sighing and feeling all smug because I am all done.
Labels: happy stuff