T'was the night before Christmas...
T'was the night before Christmas
And mum had a ball,
She made pretty the lounge and the mantle
Up the stairs and along in our hall.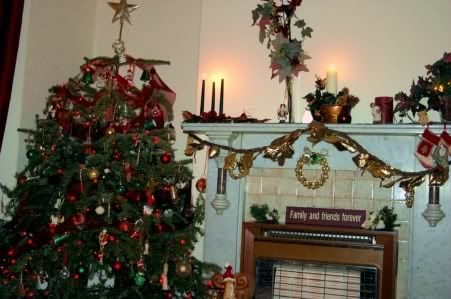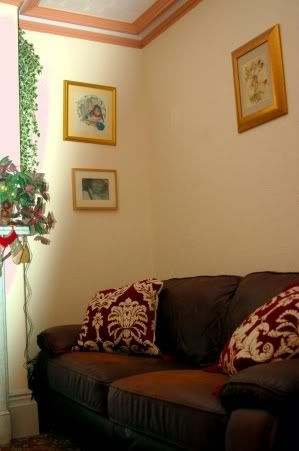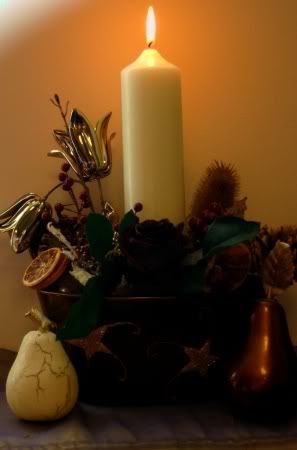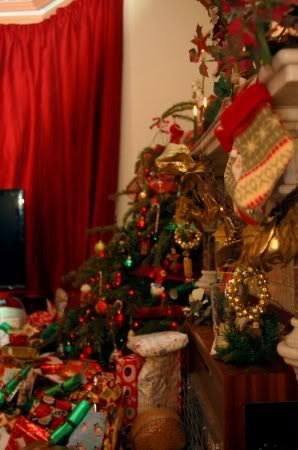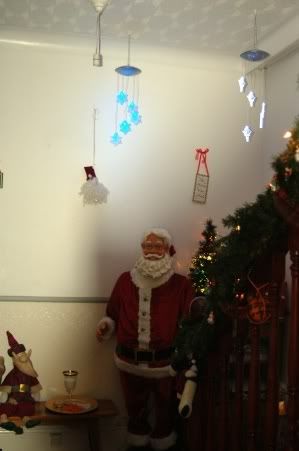 We left Mince pies for Santa, not Rudolph
We left Carrots for all those reindeer,
We tracked Santa from China, to Russia, to Paris
Then we waited for him here.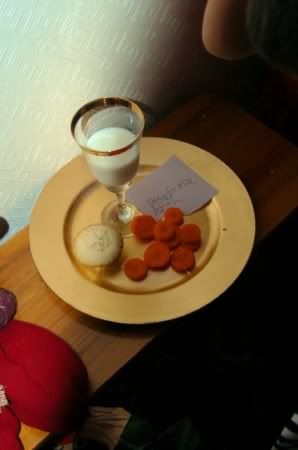 Seth found it the hardest to settle,
He just would not sleep or lie down
Mum was starting to get very grumpy
And she very soon started to frown.
It was 10, then 11, then midnight
And she'd given up hope, it was then
She had really believed he was sleeping
Then the little git sat up again!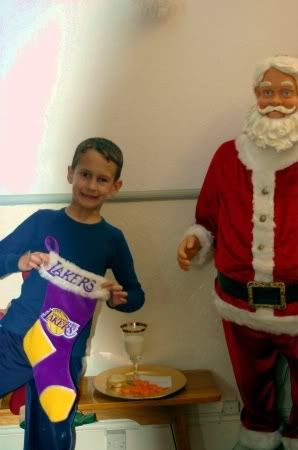 "Well then where
is
he?" he endlessly questioned
And answer me please, will you then?
Why my stocking has gone, it is MISSING
And he hasn't replaced it again!
He was really quite cross and disgruntled
He stamped feet and he cried and he cried,
Well it was more like a whine if I'm honest,
He was almost completely dry eyed.
It was just after 2 in the morning
When poor 'Santa' could finally rest
And she headed to bed quite exhausted,
( It was me and I wasn't my best)
Even Sophie, though really quite old now
Got a stocking, and without any doubt
Said that 'Santa exists!' Though I tell you,
When left all her gifts, she was out.
The boys were quite peaceful, I'm happy to say
And sleeping remarkably well
Til some time around six in the morning
Sophie woke them..oh bloody old hell!
She went into their room and she whispered
And she whispered incredibly loud
Took them downstairs and into her bedroom
She was really quite pleased and quite proud.
She allowed them to bring to her bedroom
3 filled stockings to look at and hold,
But they could not peek in niether open
For the fear that their mummy would scold
They were really so quiet and patient
While they waited and sat on her bed
Hugging oodles and oodles of presents
Wrapped in green, and in blue and in red.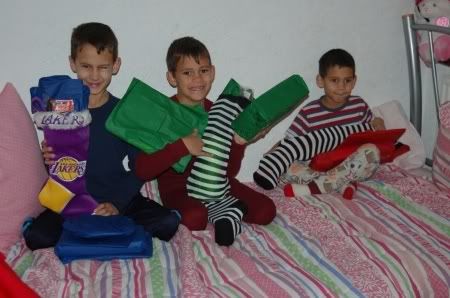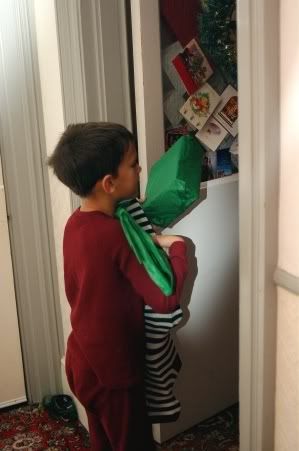 'Oh at LAST!' they declared when I came down
Is it time yet to open and see
All the wonderful gifts that are waiting and are wrapped
And are under the tree?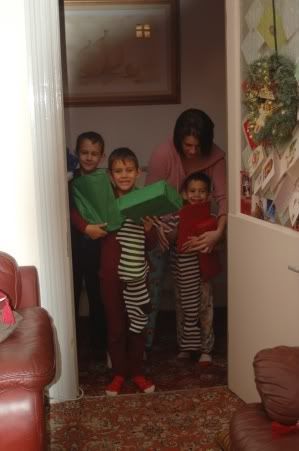 So the day was quite perfect and splendid
Everyone had more than a treat,
there were glorious presents and gifts here
And a veritable feast here to eat.
The boys did so well and were lovely
They had mountains of books and new toys
They were happy and grateful and smashing
And were certainly blessed little boys.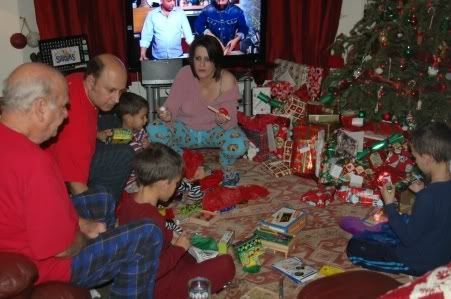 Seth had all kinds of longed for new sports stuff
And Eli had lots of Ben 10
And Isaac he had a new bow tie and he thought he was
finished and then........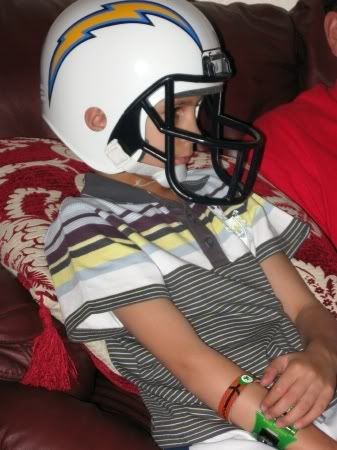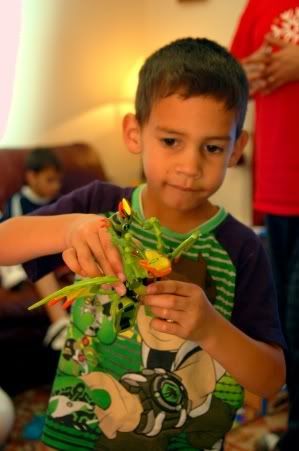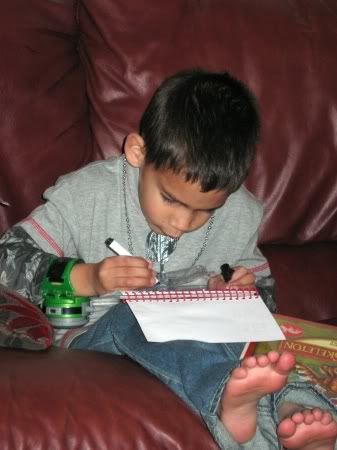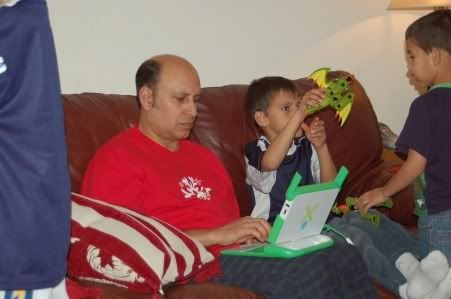 Oh my goodness do you see what I see
What I have, what is next in my pile?
It is something you know I have asked for
And asked for for quite a long while!
I can't tell you how often that Isaac
Had said
this
was a part of his plan
To ask Santa to help him to open
A few of his favourite cans!
'Oh PLEASE can I have one?' he asked us
They work on their own he would say!
And I really would like it if I could,
Have a 'one touch' on this Christmas day.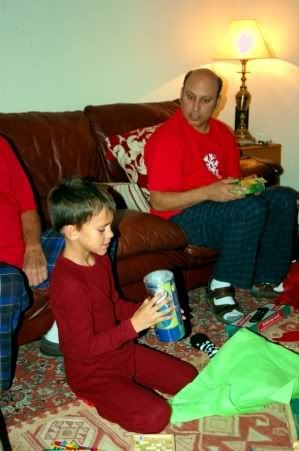 This has been, I will tell you, unrivalled
It has been quite the loveliest year
That I can ever ever remember, it has been one
Of peace and good cheer.
Daddy's best gift was from gramma
And his heart I could tell, skipped a beat
Which he opened and saw KNITTED booties
That were made, just by her, for his feet!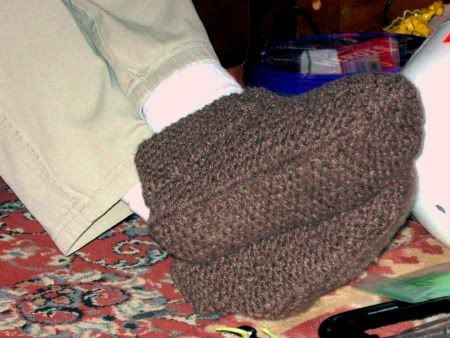 I was gobsmacked and also, delighted
When I stacked presents under the tree,
To find, hidden right in the corner,
A present all wrapped just for ME!
Good gracious, I thought, am I dreaming?
Is it true that my H, after all
Has been shopping and bought me a present
I can tell you, I felt sort of small.
Because earlier, ('round about noonish )
I gave him a piece of my mind
And I called him a name that was nasty
In fact, every bad name I could find.
Every year, it's a family tradition
I formally quite lose my head
And I shout and I let rip at Howard
And then I regret what I said.
But now I could see that he loved me
And he'd bought me a gift that would show
That even though, often I'm shouting
That honestly, I already know.
He bought me a
glorious camera
It is little and terribly grand.
And I love it because unlike my old one
It fits perfectly into my hand!
Our dinner was totally splendid
We had Turkey and pheasant and goose
But I still managed to keep on a diet
And my trousers, still comfortably loose.
My top was a brand spanking new one,
A festive and cheerful new shirt,
That by 2, maybe 3 was quite covered
By gravy and all kinds of dirt.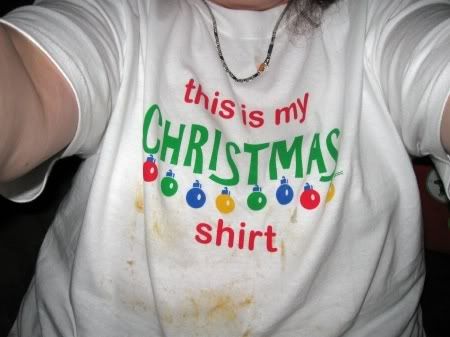 So another year's all done and dusted
And I'll not spare a blush to confess
That the sign of a really great Christmas
Can be judged by the level of mess.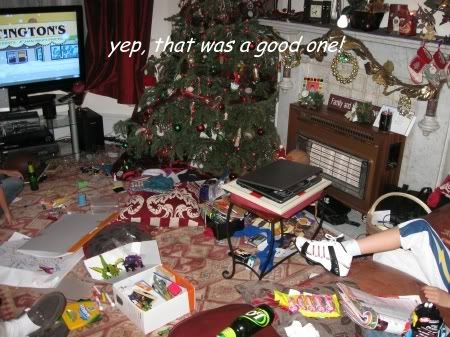 Labels: Christmas 2008