I am.
Awwwwww, look, my children ( 2 of them anyway) being perfect and all sort of arty. I am supermother, a roll of wallpaper some paints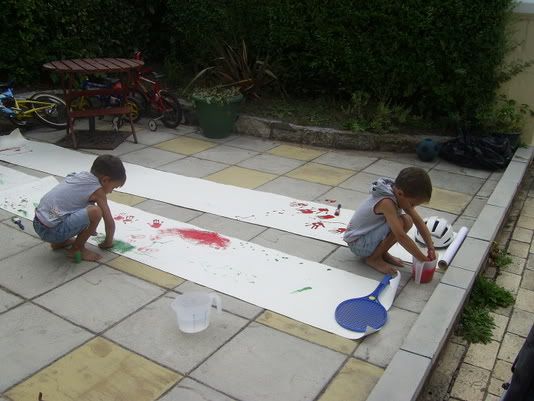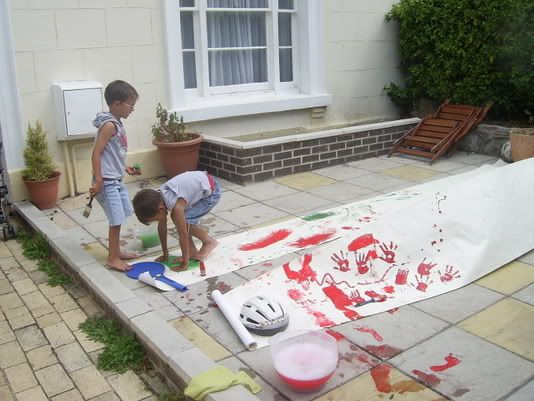 They play so beautifully and are so quiet, concentrating and working and *sigh* I am such a good mother, how good they are. I shall pop inside and quickly pick up the hell mess that is the cutting and colouring task of the morning, just inside, shall hear them and soak up the sweet murmerings that are children happily and anxiously engaged in such a great activity, thought of by me, supermummy.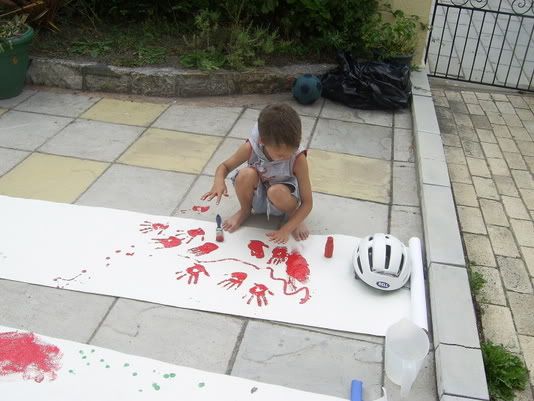 Oh bless, can hear they are having SUCH fun, the school holidays will fly by yat this rate, am happy, am perfect mother.
Actually, that sounds like a bit TOO much fun, what does Isaac mean " Ha! I harf spiderman harf hulk"? This is what he means
ACK! Am stupid stupid woman,( although don't lisp, why does it sound like I lisp, sound as stupid as I actually am) shouldn't be allowed to have so many children if I can't learn that they are NEVER sweet and safe left with paint and water and brushes and ........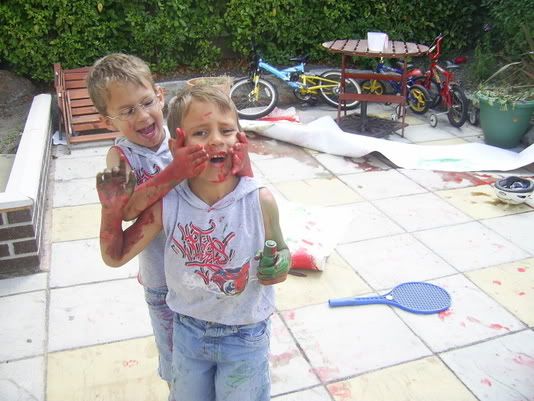 hands and imagination and things.
Boys, have lots of them and am constantly taken in by the angelic faces and momentarily peaceful times ...and quite the dimmest mother in town. Am fun though and didn't even scream when they ( of course) grabbed every wall and door handle on the way to the bathroom, quite like boys, even if they are hellions and messy and LOUD.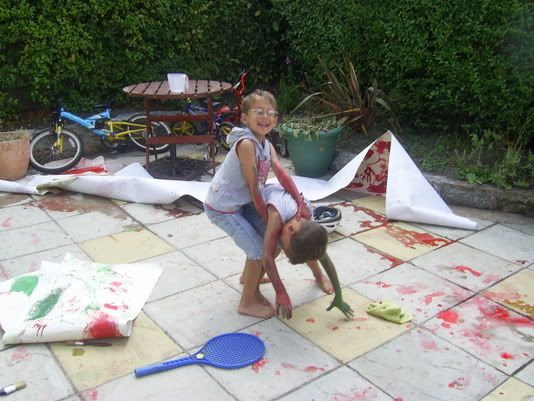 Hope H fancies scrubbing down that front yard, looks like a homicide scene with bloody red handprints and dribbling red rivers from one end to the other.