Sports day.
For some reason, every year I sort of feel as though going to sports day is a punishment, I dread it. When I get there I remember just what a joy it is. Little people all charging about and cheering each other on. Everyone that is, except Isaac who was frozen in terror at the whole idea. The crowds and noise was the very epitome of nightmare for Isaacand to be expected to actually walk, RUN, jump or hop in front of them, even sit on a row of benches, was horrific to him. I held his hand and sat next to him ( Ok so the bum is smaller but those chairs are made for little tenny 5 year old bottoms, not ones the size of mine!!) as the afternoon went on he let me run and watch Seth and come right back and twice, he joined in, once on a weird sort of contraption the likes of which I have never seen and once with the parachute that they hold and shake and run under--he didn't run of course, just held and then remembered that there were people there and they were WATCHING and sweet heaven let me escape.........
Seth was in his element and in true Seth fashion he threw himself into it with such joy and vigour. Here are some pics of my sports day boys!!
Waiting........
Oh.....OH! Too scarey, too many people watching and crowds and noise, I want MUMMY!!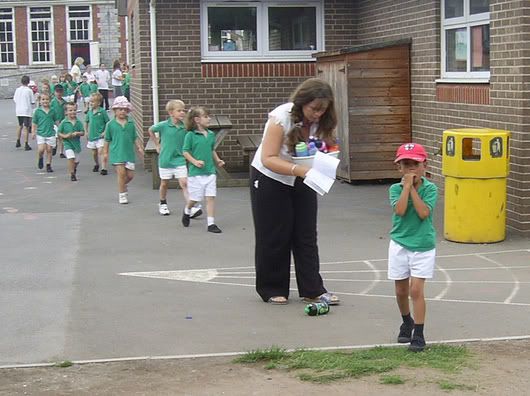 Everything was just too much, he just rooted his feet and wouldn't move, until he saw THIS, now
THIS
is just too much fun and it wasn't a race so no cheering and yelling....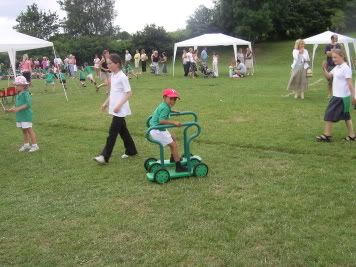 It was kind of hard to keep track of both boys with one camera and one me...but I did catch the Seth Meister in one of his races! H was waiting for Eli to wake from his nap, I thought he missed it but he was there, didn't see me with the reluctant one....I was so happy to see him and the Elijah boy at the end.
And he spun a plate!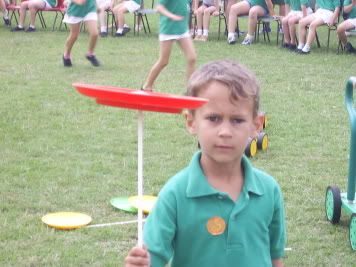 And when it was done, they get a raspberry Ice lolly....fun was had all 'round. Next year all 3 will be in sports day! Hard to believe!