The boys brain amazes me.
Seth's that is. He's a mini H, a walking encyclopedia. Impressive when H spouts some bizarre piece of information that has been hidden until needed but when a 5 year old does it....mindblowing!
H and I were talking tonight about grandpa, who at last is talking about retiring. He said tonight that he wants to retire and see Europe.
" Hey," said Seth ( the eavesdropper) "Ittakes 6 hours to get to France on the ferry, he should do that and then go to Germany and Italy too" HE then went on to talk about the chunnel, flying and the hovercraft as alternative ways to get to France. How does such a little head hold such information, as well as the veriatble zoologist catalogue that is held in there. At 3 he came to us puzzled and said " I've been thinking, a chameleon really should be in the primate family because it has thumbs"
I used to worry that he would be a freaky anorak wearing boy as he grew up but already he is so funny, such fun to be around and is touchingly in love with soft toys ( although he checks to see if they have been made so that they are anatomically correct and if a stuffed Labrador has the wrong kind of ears for example he won't go near it!!)HE joins in with his friends games more now and is as up for a lavatorial conversation and farting noises as any 5 year old boy.
He can now read anything you put in front of him, still totally disinterested in stories, unless they are read to him, loves reference books, animal encyclopedias and the guiness book of records. He loves to whip through puzzle books and writing exercises and draws beautifully.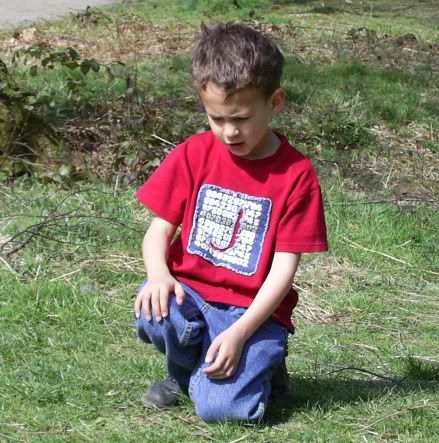 His mouth is too old for his body too...he is a master at answering back and there are times the thought of him being a teenage makes my blood run cold. He is definately Howard's son and they can oft be found discussing photocynthesis and such topics.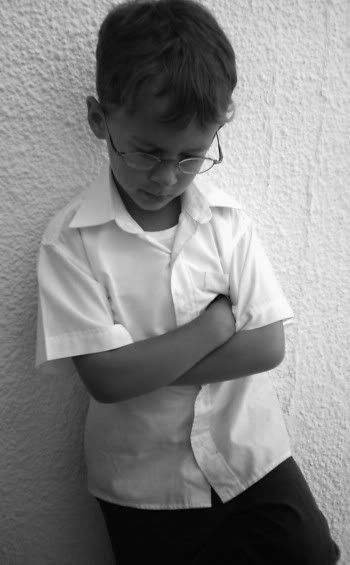 I feel an outsider many days and am glad I have my equally bright but less judgemental Isaac, who loves me even if I am a bit dim and of course Elijah Henry, my one out of 6 totally 2 year old with no bizarre tendancies, no special needs and a glorious goofy grin, who won't give up his nappies for all the bribes in Britain and says they are nice and warm and LEAVE IT ON....he doesn't want to wee in the toilet or on a potty, he likes his nappies. Thankyou.
Life is good , it takes 6 hours to get to France unless we get on a hovercraft which only takes about 45 minutes and I gave THAT piece of information out because I have done it,been on it.... ha......beat that brainy boy!
And a P.S....I took this today, look at how tall the Jordan boy is! I'm impressed that he always remembers to duck when he walks through this doorway!!