*GASP*
LOOK! they
DO
have other shirts!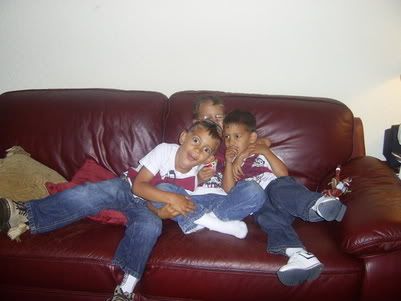 That's the cheerful bit for the day, because just when we don't need it the bank have done the "ooh lets take some charges out today, and look, now she's £1 short for that bill so lets charge her £38 and then that'll mean that there isn't anyhere near enough to cover THAT bill which isn't due til tomorrow but what the hell...so we won't pay it and charge her another £38 and then when she gets paid tomorrow it will ALL BE GONE!"
That throws out the trip to London, so I'll stay home and wish I was there......arses and dog pooh.
I am still going out for lunch with the girls on friday though. Oh yes I am.
I don't too often get fed up about money but when it gets sucked out by the bank because of £1...GRRRRRRRRRRRRRRRRRRRRRRRRRRRRRR! May your ATMS all freeze and you have a day full of irate customers tomorrow.
On a good note I found a beautiful bedspread and curtains at the reclaimation yard for £7 for grandpa's bedroom, just before I did a bank balance, so that sort of felt like a poke in the eye for the money gremlins...yeah try and keep ME down you buggers ( sorry for any church going readers, I am a cussing sinner, it's what keeps me from being perfect.)
The boys are like crazy lunatic type people this evening, hard to give in to the urge to tie them together and sell them to the gypsies because actually they are just laughing. Maniacal laughing, about nothing, when we want to sit and watch TV and watch the clock out of the corner of our eyes so that bang on 7.15 I can put the first one in bed.
Sitting on opposite sofa's pulling faces and laughing 'til they spit and cough. Hysterical. Not. Grant me patience for another 7 minutes.
7.15 might sound early to some.....believe me it is 13.5 hours after he woke up. It is late enough. It is the one thing I am thankful for that he is obsessed with. Bed at 7.15, school days and holidays.
Today has been a long one.
UPDATE.....11.34pm
I know, have a hair colour in the bathroom, lovely, will pamper myself and rid myself of grey hair, feel all young and be lightest golden brown and shiny, will feel better.
Damn.....is NOT lightest golden brown as stated on box, is purple. I am purple headed person. Have nothing against purple headed women as long as it isn't me. Am a bit old to have purple hair. Oh well, may get used to it, may buy an orange skirt in charity shop and pretend I meant to get pruple hair. May begin yoga, purple hair may help me. Might become a new woman and discover myself. Might actually like purple hair.
I don't like today.