Conversations in our house ....part something or other.
Isaac.
" Mum, you know my skin is halfway black, can I go out in the sun until I am properly black and then either shave my head so I look like Kobe Bryant OR get those lines in my hair like Xhibit on Pimp my ride?"
Me with H.
"Ow, I have a big pain in my head, wonder why that is"
" Ha! Think yourself lucky that you don't have an eye twitch to go with it " ( as he nods his head behind Sophie)
Sophie
"Jenn Mac and Cathy want to know what size clothes I wear. I wear a 10. Tell them 10, I am not wearing a size 12, no way no how" ( as she sits with overflow from every available place, boobs, belly, bum.....luckily a 10 in the US is a 12 over here, phew, maybe we can cover that body a little better, since she stopped taking drugs her addiction of choice is food)
Sophie to Daniel
" Bloody hell Daniel you are getting SO fat!"
( wow.......there's an open opportunity to retaliate, which he did not, to his credit)
And when we stopped talking we just took pictures of the unbearably delicious baby.
And at last Papa H got to meet Joshua.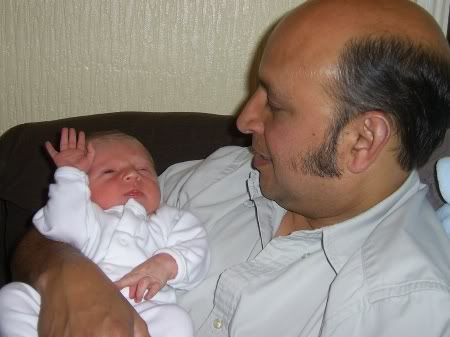 And Joshua got to meet Papa H and his sideburns, which are the new thing, because that is how we do it in England. I am told.
I think I am to be commended for being as sane as I am considering that I am surrounded by so much bizarre and eccentric behaviour.
Oh another conversation ( more of a statement really as it beggared a response)
Sophie.
" I think I would be really great in Big Brother."
Let's not even imagine that.
Please.
Labels: grandbaby mine, just stuff