Splendid things.
Well, I am experiencing something I have never done before. I am CAR SHOPPING! I am, for real. Here's the deal. The freecycle car, for which we have been immensely grateful, needs taxing and MOTing next month. It has served us well but it is pretty much a pile of poop now. The clutch is leaking, so the interior, by my feet, is covered in clutch fluid. The drivers wing mirror fell off, it needs at least one new tyre. The worst thing for me is that in the back there are 2 full seat belts and one lap belt. That means that when we all go out, Seth is in the middle, with a lap belt that cannot be adjusted, it worries and sickens me but we are helpless really.
So, we have a choice, either suck it up, pay the money to get it through an MOT and then tax it again for 6 months ( which between the 2 will probably be close to £300-£400) or buy a new car.
Every car I have had has 'come to me' it belonged to a family member, or a friend, or I found one that I could afford and so that was what I had.
This time I can choose, to a degree. Naturally I keep finding cars that 'Oh if I just had THIS much more' which is completely typical of any new purchase from shoes to homes. I have £1200...which is enough for a nice car, that will make me feel a bit grander, safer.
I have longed for one of 2 cars, a Citroen Picasso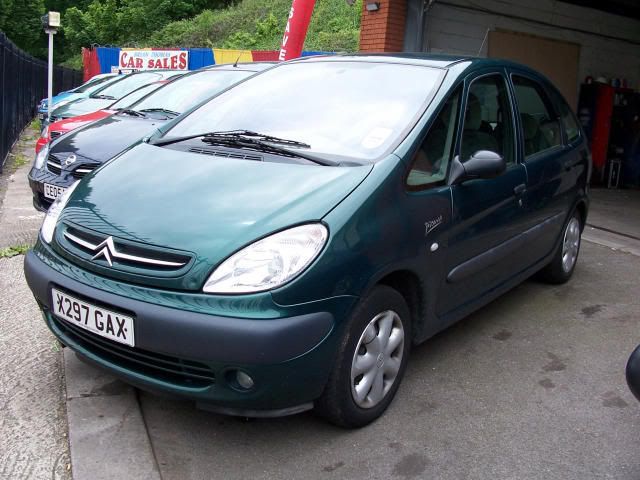 ( actually this particular Picasso is on ebay and I have had it saved for a while and I look at it and stroke the screen because that colour is so beautiful and it is so shiny and I KNOW it doesn't smell like wet dogs...but it's £1000 more than I have, so it will stay my little dream for now....we all need something to dream about!
or a Renault Scenic.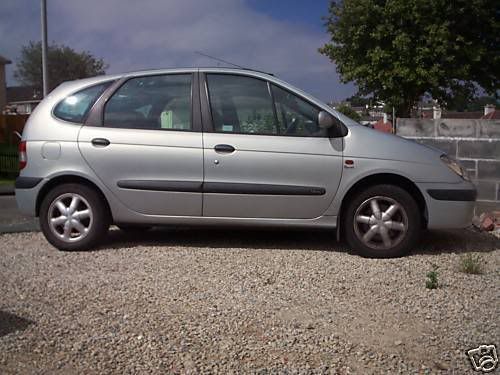 Both are high up, have 3 separate seats in the back, with full seat belts. They are as close to a people carrier /mine van as we can get, I would dearly love a 7 seater, I could take my boys out and Joshua, have all the space you need with little boys but being practical I just can't afford it. The running costs are so high and even though petrol has come down a little bit, it is still extremely expensive and not practical for us to buy one again.
I went to see a Picasso today and it was a good price, I liked it but when I opened the doors the smell was awful, I told myself how we could clean it and blah blah and then I just told myself that even though I don't have a huge budget, surely there has to be a car out there that doesn't stink.....not that bad anyway!
I have seen 2 more cars that I can go and look at tomorrow and I am so excited that for once I get to choose, say yes or no and decide!
The third choice would be a Peugeot Partner, they are almost the ugliest car ever made but the seating is great, there is so much room, it does really well on petrol consumption too ( and I know this because Uncle Barry has one and he has logged every single mile he has ever driven, he drives many many miles in his and he loves it, it does it all for him and the few times we have been out in it I must say I kind of love it too ( can't see how ugly it is from the inside, even better!)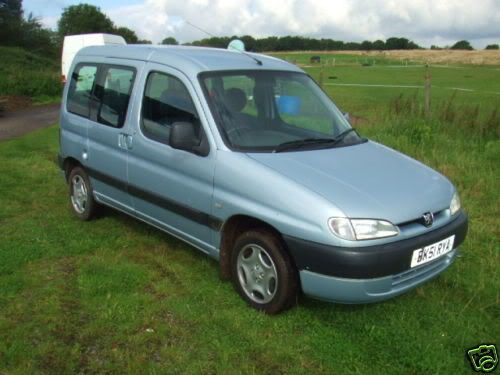 Again, for some reason these are just out of our reach for now and so we won't be buying a Partner this time.
Can you believe I am writing so much about a second hand car? But it will be MY 2nd hand car, that I chose and paid for and will be loved.
I do feel a little intimidated by the whole process and afraid that money I have might end up in the hands of an unscrupulous person, I am trying to stick with car dealers rather than private sellers, at least if it falls apart in a few days I can go back and cry a lot and threaten them with Sophie for an hour or something.
I can't wait to find the right one, to have it here and wave bye bye to the dear stinky freecycle one, I have thought about putting it back on freecycle but to be honest I would be too embarrassed, the dash board is held in place with wood screws, the seats have holes in them....it would cost someone too much to keep it on the road, it's time to retire it to the scrapyard.
Sophie is doing beautifully, working long hours, every day, coming home worn out and sleeping 'til it is time to go and do it again! Heaven. She will be rolling in money when she gets paid, she is paid monthly and that means a huge pay cheque for her this month.....which she will spend in the first week I suspect! It is so good to see her happy and well, busy and safe.
I love hearing from people that they have seen her at work and how hard it is to believe that it is her.....countless people come to tell me that they have seen her and how beautiful she looks. It is quite the most splendid thing.
We like splendid things, very much, actually.
***Oh, I just wanted to add that I have been eating well and living my newlife for 2 weeks, I have not been to get weighed because I really hate the thought that I haven't lost weight, if that were the case and I got despondant it would be horrible, so I am just continue on, enjoying the feeling that I am doing a grand thing and that one day, well I may wake up and get dressed in clothes that just fall off and then I shall go and get weighed and marvel at how marvellous I am. Splendid, carry on.***
Labels: happy stuff