A new year's just begun...
And how marvellously it began!
Dan is down here and we had a mini Christmas with him, ( oh alright, so we watched him open his presents and then said " Can we get the tree down now please?")
I took the tree down and so keen was I to get rid of it, H and I rammed it into the back of the car and took it to the recycling center, H did say that he was sure that of all the days in the year, this was sure to be one that it was closed. I assured him that the garden refuse bit was ALWAYS open, we only have to drive through and throw the tree on, it'll be fine.
It was closed, huge iron gates ( never noticed those before) and a sign saying that anyone filmed dumping stuff outside the gates would be liable to fines of up to £20.000 which is excessive isn't it ( and not worth the risk because we ALL know who, if anyone would be the person to be made an example of, don't we? Yes, we do.)
So, tree is propping up the outside of our house and tomorrow I shall take it to be mulched and shredded and made into something organic and wholesome. Funny how the only time that tree gave off even a hint of pine smell was when it was flinging every single needle off in a last desperate attempt to carpet the floor with it's sharp little needles. Bloody thing. Fake next year, all the way, nice fake tree that will stay in shape and not droop, at all.
I was going to cook a roast, pork and crackling, all the trimmings...and then Dan said " Nah...why don't I take us all for lunch?" and I was convinced, so Jordan booked us in to his work place, which is so pretty. I have never been there before, but I will certainly be going back because it is so quaint and the food was delicious. Cooked by Jordan. Beautifully.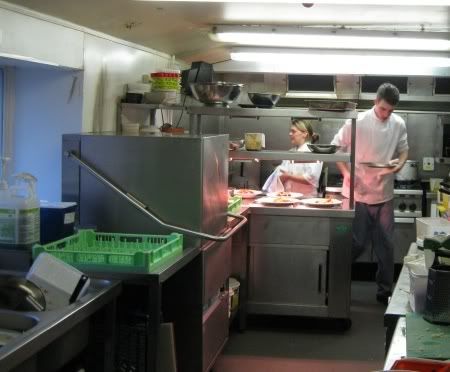 We had steaks, smoked fish platters, we had pate starters, steak and ale pie ( which by the way, looked so great I took a picture!)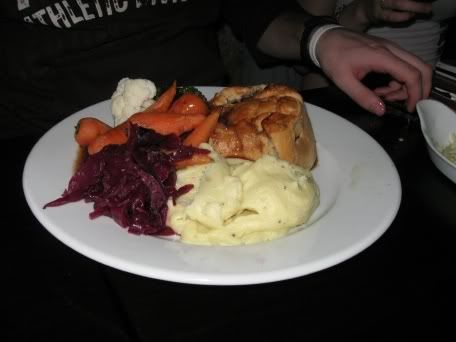 See? My boy made that pie and one of the others ate it!
Look how pretty the pub is...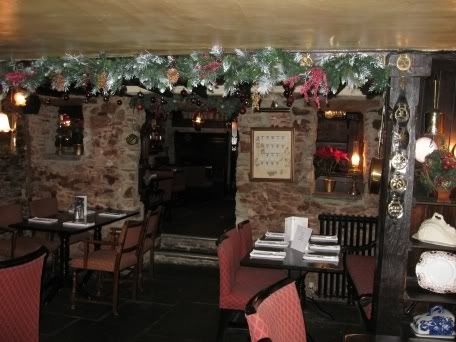 Jordan popped out of the kitchen to say hello,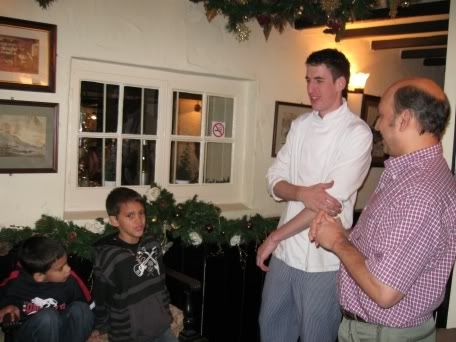 We had great seats.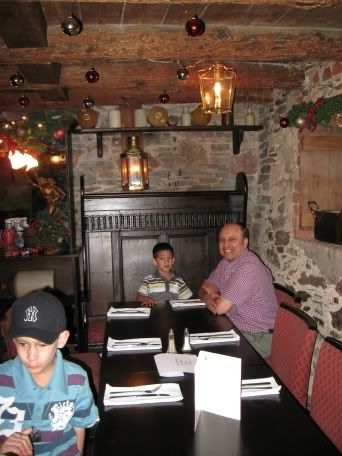 There were good drinks ( non alcoholic of course)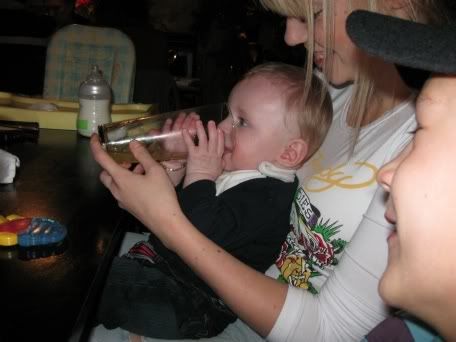 And there was happy. Lots of happy.
Although even that precious baby doesn't escape the banter and the teasing ( always done in a loving way of course!)
He isn't a bit simple , it was just to great a photo opportunity to miss, he was so zoned out after his lunch!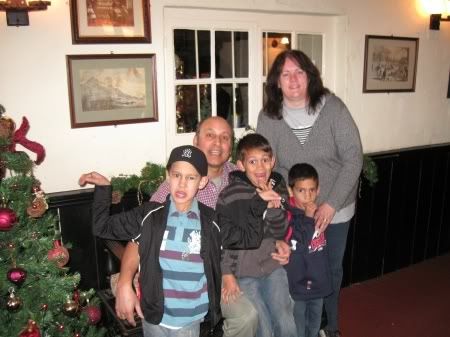 A rare picture of our family...rare because I always look and say "Gah!" and delete but sometimes you have to just go with it and accept that this is as good as it gets!
As if that wasn't as splendid as can be, how about the big kids taking the little kids out and the old people having a 3 hour nap?
Old people. What a moment of clarity I had as we sat at the table and I looked at my posterity, 3 generations of one glorious family at the table.
AND I WAS THE OLD ONE!!
The old generation!
Me!
It seems moments ago that I would sit at a table with my mum, dad, siblings, Nana and thinking how old Nana was.
Now that is me.
*Insert shocked expletive here*
It's not a bad thing. It's just so unreal .... it really is. It is incredible to me that I can be the matriarch of a family like this. It makes me feel so strong and wealthy. When I sit and just soak in the laughter and the absolute love, it is indescribable to me. Enormous is what it is. And very, very good.
Labels: Happy new year.