Probably, the most fun we have ever had.
Oh I had such fun yesterday, my niece, Gemma got some tickets to' Britain's got talent' in Wales and she, Sophie, Mel and I went to see the show.
Gemma drove because I am such a ninny when it comes to finding new places and Wales, as we all know is a whole other country, I have found it often and driven past that "Welcome to Wales sign" when I am trying to find Bath, which is in England and not in Wales at all, but I was pretty sure that if I had wanted to find Wales, we would have landed up in Scotland and it was a treat for someone else to drive me for a change.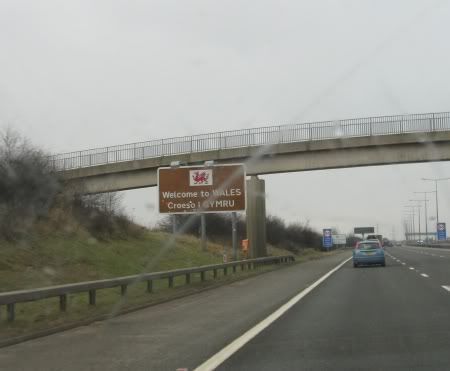 Gemma's car is the same of mine which gave me a sense of all will be well also so I had no worries about going in her car and not being in control, which is usually my favourite thing in the world.
I drove the boys to school and tried really hard not to hear people talking about snow storms and extreme weather warnings because SIMON COWELL! ANT and DEC! FUN! Snow, shcmow, this is England and Wales and we don't get snow, we get a little fluff every 15 years that looks pathetic and never sticks to the ground, no English snow was going to make us give up seats for one of the best shows in the country!
Off we set....Brrrrr, cold but no snow.....of course. Actually it IS cold, brrrrrrrrr.....Gemm, it's cold! "Yeah, stupid heater is broken ( whack whack) yep, broken, never mind, car works....
Turns out Gemma is almost exactly like me when it comes to driving, she is so scared of driving to places she doesn't know and worrying about if she will find somewhere to park or get lost and be forever driving in circles asking where she is and will she EVER GET HOME?!
Gemma's nerves make her need to pee and so we stopped to wee and also to watch various eyes pop out of heads as Sophie walked past different young men as they ate burgers and drank tea. It's almost a game and I think it's very funny unless the man in question is in his 50s and slimy looking, it then becomes a game of keeping mother from punching slimy old man and nagging Sophie to cover up and hide some skin and IT'S SNOWING FOR HEAVENS SAKE, you'll CATCH YOUR DEATH!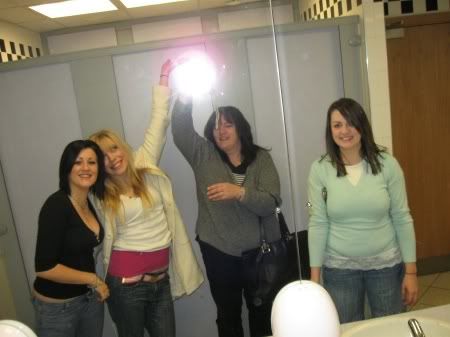 ( I love this picture because we are all in it but I look like an old biddy with a lally bag, albeit a very posh Coach Lally bag!)
Actually, apart from the bizarre quirk that Gemma's car has of disliking travelling at 60 miles an hour, when it makes a worrying grinding noise as though she is driving in 2nd gear and maybe she change that or something, we arrived in Wales without a hitch. We found Cardiff ( or Gemma did) found a parking spot ( £12 !!! Good heavens Simon Cowell, for no-one else would we pay £12 to park!) and even found the theatre easily.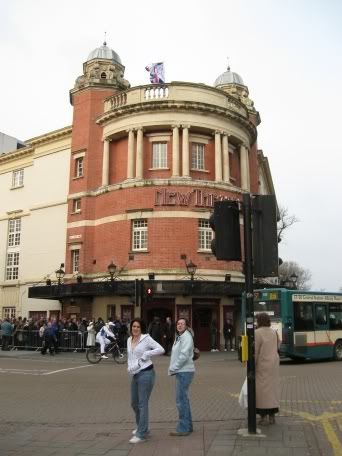 There didn't appear to be too much of a queue either which was miraculous, only an hour or so to wait and no queue? Miraculous indeed, also incorrect because as we walked to the back of the queue it kept moving and getting further and further away from the entrance. No matter we were THERE and had TICKETS and this was SO EXCITING!
Shame then that we had nothing to eat and daren't leave the line for fear of never getting in. Mel mumbled about how THIS is where you need a man with a tray of sandwiches and before we blinked, there he WAS! A man with a tray of hot bacon and sausage baps! MMMMMMM, delicious and so welcome.
And Mel is not going to share any of hers!
We did mention how a man with hot chocolate would be more than welcome but to no avail.
Even being in that line was fun. Mel was so excited and said over and over again how much she hoped there would be cameras and if there were, she was going to WAVE at them and get their attention, she was going to be on TV and she wanted CAMERAS! Where are the CAMERAS?
Eventually she started to say " a camera is coming! It IS, look CAMERA..it's COMING a camera is really coming!!! LOOK!
"what?"
"A camera, a CAMERA! Look it's COMING!"
"Mel what are you saying?"
"I said a CAMERA IS COMING Oh my gosh...a CAMERA I am going to be on it, on TV!!!!!"
"WHERE?" said I and looked up and there it was no more than 3 inches from my face! I bet I looked heavenly at that distance, what a shot! Where is Mel? Her chance for fame!!!
ON THE GROUND! Really, she was on the pavement, curled up with her hands over her head!
"what are you DOING? "
"It was so close, I didn't want to be THAT close!"
For heavens sake, she laughed til she cried.....after she got up off the dirty cold ground that is.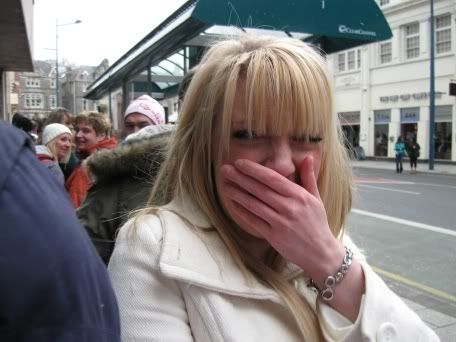 It was cold and we stamped our feet to keep them warm, it did stay dry though which is a blessing, rain would have been miserable and the snow was light and pretty and a novelty...proper British snow. We took pictures of the crowd,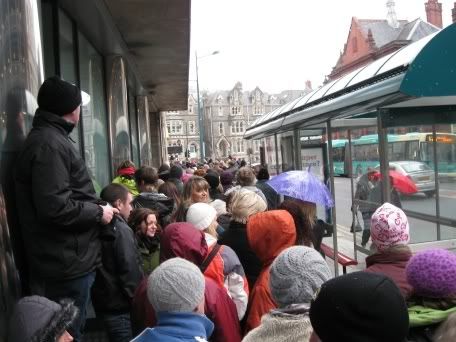 Of ourselves...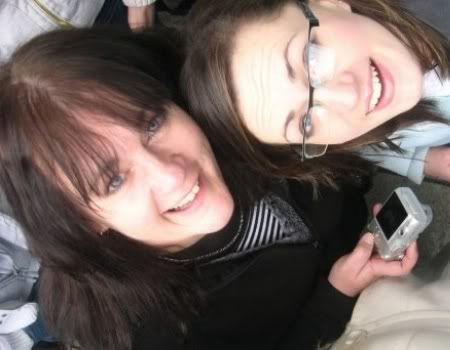 Let me tell you, that picture there is my favourite, from now on EVERY picture I ever take of me is going to be from that angle....look how there is no double chin! Look how youthful I look...why did I not know of this trick before? I love that picture, it is now on every profile and signature I own online...look at ME...I am 15! Hoorah!
I will not be posting any of the ones we took from below, where we are all looking DOWN on the camera..although I am sure the others will post them on Face book, mean minxes.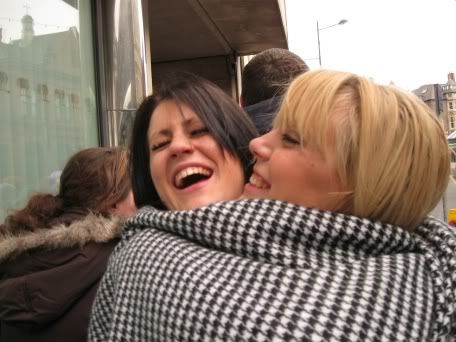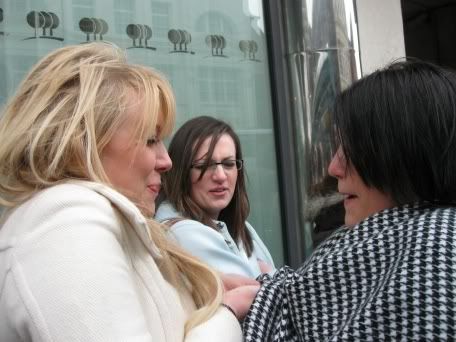 Warm those hands Mel ( and look at Gemma...she is more like me and has standards and is a good girl....a little disturbed by Mel warming her hands on Sophie's bosoomers!)
pictures of the queue behind us...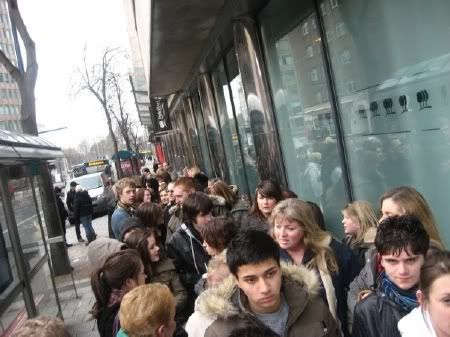 And being bored and pretending to be a pantomime donkey...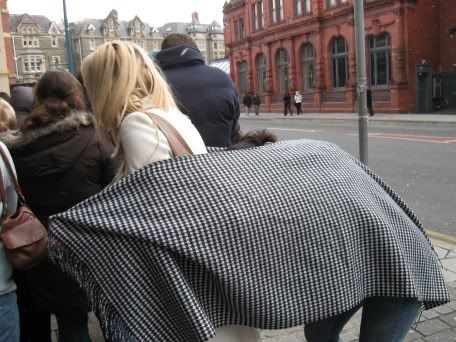 And cameras filming us...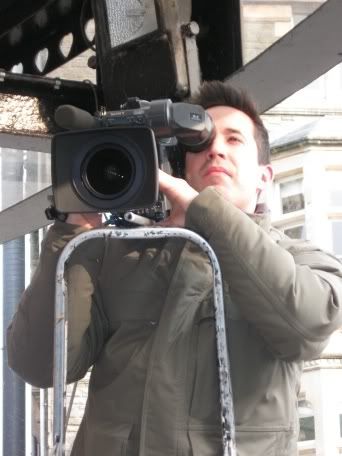 And before it, we were in the theatre, The new Theatre, Cardiff, and it was warm and toasty and so unbelievably exciting!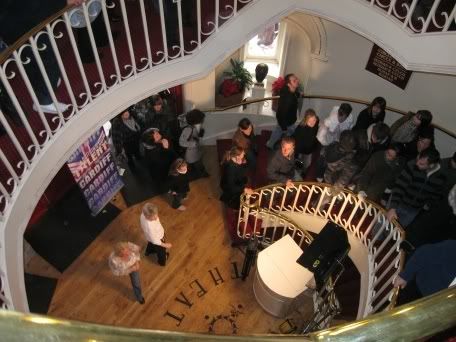 We were like kids in a candy shop, the STAGE and the BUZZERS and the NAMES IN LIGHTS! Just like on TV! but we are really HERE!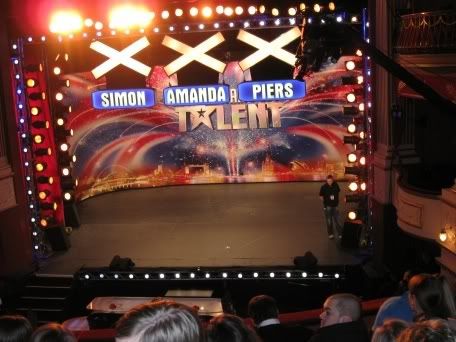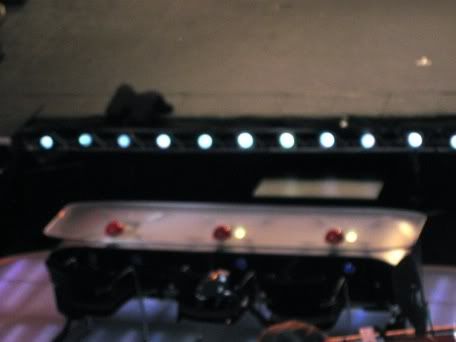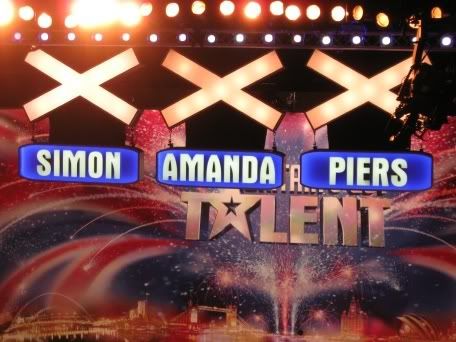 And then the show began..we were allowed to take pictures of the judges and Ant and Dec, then we had to turn off cameras while the show was being filmed.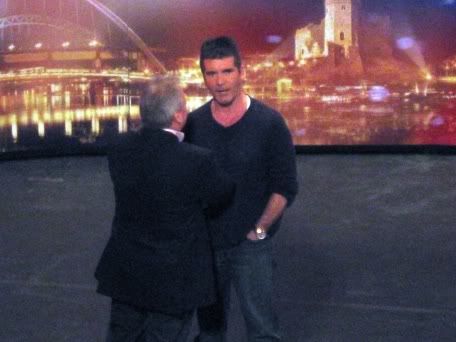 SIMON COWELL!!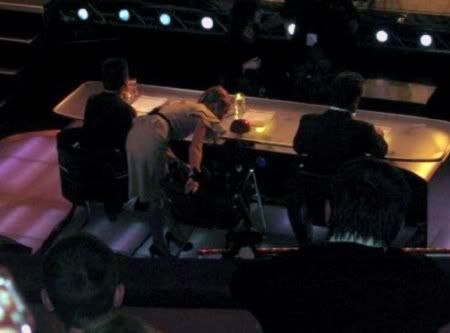 Judges at the table with buzzers that were so LOUD.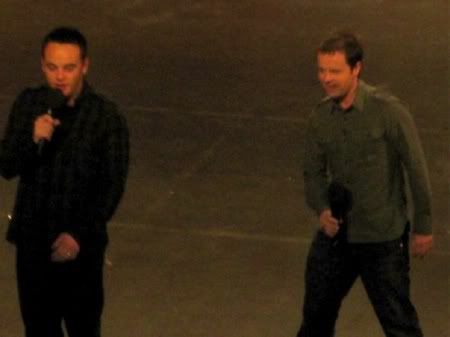 Ant and Dec who are very beautiful but SMALL, very little indeed.
The show was fabulous, great acts, terrible acts, enthralling acts. The best parts were the inbetween the acts where they had the funniest man I have ever heard, he was great and really had us all roaring with laughter and shocked at how rude he was about the bad acts!
The best part for me, was watching Sophie. This is the kind of fun she should be having, I wanted to watch HER ( and I did) I wanted to make her whole life feel this way, to see her laughing and having such real fun, safe fun. I took picture after picture of her laughing and I watched her every minute because this is how I love to see her.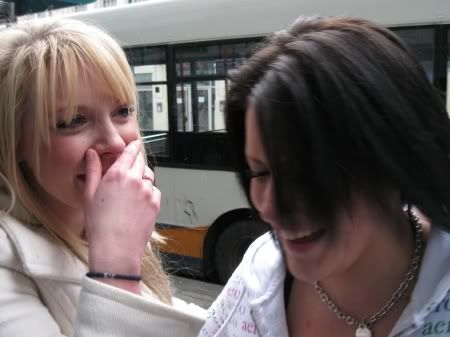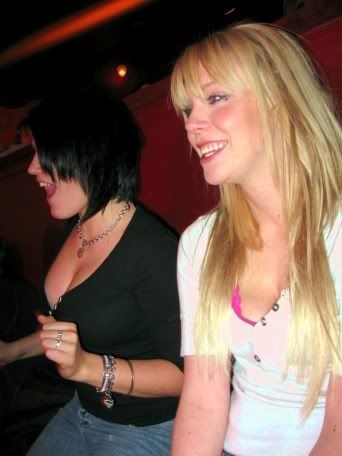 We were in the theatre for 4 hours, every minute was fun. We watched the filming of ' Britains got more talent' which is an after show programme shown on ITV 2 when the main show has ended. It is hosted by Stephen Mulhern and is as much fun as the main show. We saw him in a box just above us and watched him as he watched the show. When the show was over we got told off for taking pictures while he was still filming, when he was done he called over and waved and let us take pictures, so I called up and asked if Sophie could have her picture taken with him. Bless his heart he said he would come and meet us and we took a picture, no-one else was allowed to pose with him as he had to carry on with his work.....what a treat for Gemma, Sophie and Mel!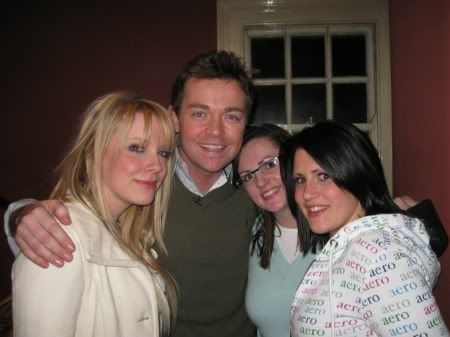 Hearing Sophie and Mel thank us over and over again, watching them laughing and dancing, seeing then have such real good fun was so touching to me, I was quite teary coming home because they kept saying how this was something they would remember forever and how this was probably the best fun they had ever had.
It really snowed as we drove home and Gemma did such a great job, she got us home safely and all was well until we got home...it had snowed so much and was so icy that the car wouldn't make it up out hill, no gritters on the smaller roads, so Sophie and I walked up the hill, somehow! What a funny end to the day, slithering up such a steep hill and sliding back down every now and then.
A lovely, precious day of memories and laughter and I can hardly bear to wait until April when the show airs and we can sit and say " we saw that! Oh she was terrible, oh she was SO funny!"
Glorious times.
Labels: memories, Sophie and happy stuff