Forget old Mac Donald.. WE been down the farm! ( more pics added)
We fed deer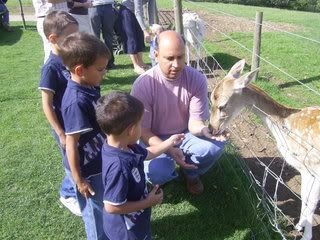 we went in the maze.....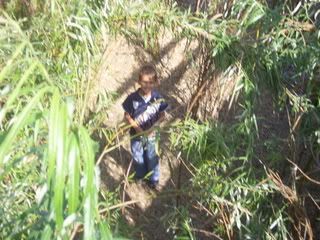 we rode the mini train ( and Seth smiled.....he smiled ALL day, almost)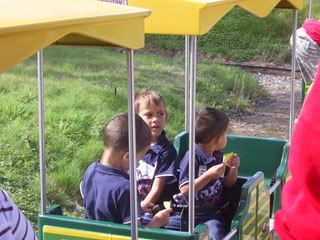 we had a picnic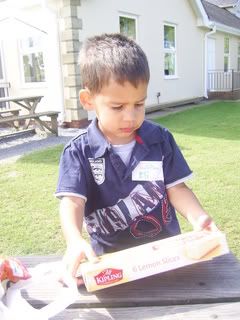 we did assault courses ( with a little help from daddy)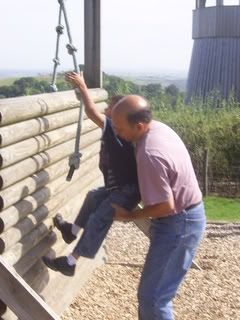 rode a tractor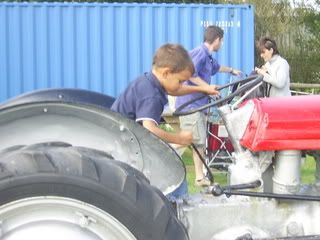 climbed towers and forts
climbed on the wagon
we saw the shire horses ,that are HUGE but it took a long time to get close to them ( see Seth?? No IT'S TOO BIG! don't take me near it!)
we scratched piglets backs..
and saw teeny piglets
some just 36 hours old
And ...ah yes, Shetland ponies, we'll touch those....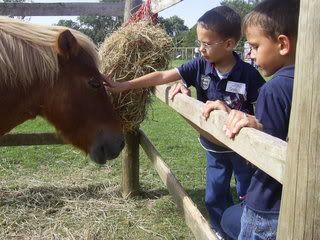 Jump on that trampoline......
Goats ......whoops get out of the gulley Elijah!
Then the batteries ran out in the camera...and we saw
mating tortoises...did you know they make a NOISE?? A loud noise, they had no shame!!
And because this is what blogs are all about I used my camera phone because who can resist mating tortoises? The following pics are a bit cruddy but at least you can see what else we did ... I LOVE my pink phone!
More shetlands, even littler ones, in the nursery.. ( and this picture kind of made me wonder how we look after these 3 little boys because it shows how close they are in age, it doesn't show just how LOUD and bouncy they are though)
And ferrets that stink but are a bit cute and friendly
and we saw them race..
And Seth WAS a ferret, with gripping teeth...
And then we stroked the shire horse because, well we were farmers by now and were brave...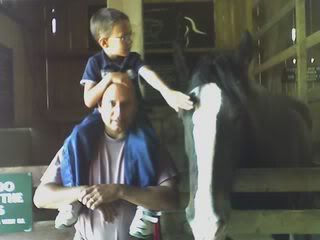 and we watched Katie squirt milk from Fortune the goat and it hit the blackboard!!
And we mixed some baby formula for.....
LAMBS but even though THIS is what we had been asking to do ALL day, we didn't feed them because we were a bit scared.... so daddy did it!! ( and mummy loved him a bit more because he just did it all and he always does stuff)
We even hearded the cows back to the field because we were there ALL Day,
and when the wouldn't move we could shout and shove them and yell....which you would think would be GREAT because we do that stuff, all the time and get told NOT to shove and yell and shout ( this picture looks kind of though the bullock is being mistreated but really it wasn't, the whole thing was gentle and safe! Honest it was!)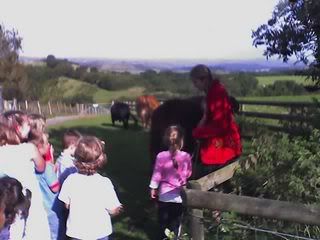 ....not at all fun when you're told to do it..so we were quiet and didn't shove or yell...til we got home.
Home, bath, dinner....snuggling and bed. Saturdays should always be like this and because we did so much and got 6 stamps for joining in, we got free tickets to go again. Is that the BEST saturday ever? I think so!!
Yeah...Seth thinks so too!