When I was a lass, why we didn't have soft pumpkins to carve
So, I caved. On the party, I really thought I had managed to not do it, felt sort of smug and phew about it, can't afford it, can't be bothered, H still poorly. No party. Phew.
This morning, Isaac kept reminding me that it is monday, homenight day ( one day a week when we make sure no-one is busy, quick lesson of some description, activity and a treat. They love it, mondays are happy and today he seemed extra excited about it. After the 5th reminder that it was homenight tonight I said " you really love homenight don't you my boy?"
"Yes, and tonight, for our activity we are putting up ALL the halloween decorations"
Groan.
So, we're doing it, let's do a
little
party I said. Just a few people. 3 families, perfect. Make some phone calls and H said " we really should invite the kids in our classes" ( 15 total) Good idea " and their siblings because we should be fair" Uh huh. ( it is as well that some siblings are quite old because the siblings of the kids in our class......that's a LOT, one little girl has 12 siblings ( some married though so that's OK and the others are so divine, who wouldn't want them at our party and anyway I already called the mum)
So, I called my friend and said " How about the girls come over and help decorate for the party?" WHOOHOO! I just adore girls that are old enough to do stuff but young enough to still be REALLY enthusiastic about it. I got me 3 of those and a boy and a boy's mum who sat with me in a completely different room and chatted. Heaven.
I gave them the flat, totes full of decorations, some cardboard, 15 metres of black PVC material , pins and tape and said " DO whatever you like!" They had a blast. I did nothing and it looks great!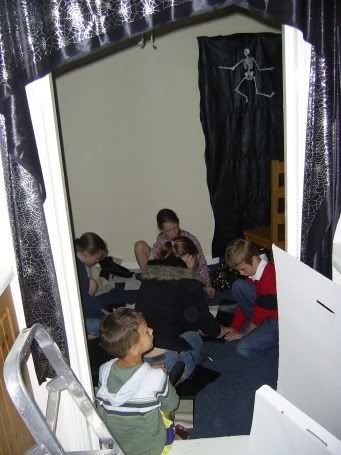 The lounge will be the pumpkin room, we did some of that but the rest on weds.
Everyone is bringing a plate of goodies, we're set.
H had little boys in the kitchen carving pumpkins that, when carved looked like afore mentioned little boys because ISAAC LOST A TOOTH TODAY, oh I have 2 little boys with gappy gobs, could I be more blessed?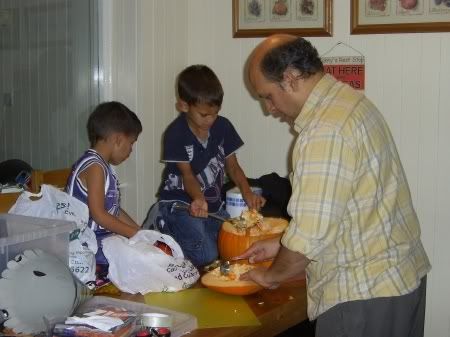 Jane ( my friend) started to talk about when WE were young, we knew each other even then and our mums were friends and would have get togethers while we played ( isn't that the best that now our kids are friends, real friends?) so she started to talk about how we never had pumpkins when we were young, and that's right we didn't I had forgotten that. Halloween really has only just begun to catch on here, when we were young we used to carve TURNIPS! Or rather swedes which I believe are called something incredible like Rutabagas or something. Oh my goodness, can you imagine? It was so HARD, those buggers are solid, no cushy carving jobs did we ever get when we were young, we would scrape and chisel away at those vegetable rocks for hours and hours. Hammer and knives, anything hard and sharp to try and batter some shape into them.
I thought I would piddle myself laughing at the memories of the grunting and shabby results of trying to make a face out of those solid lumps of veg.
What a difference a year makes. H cut and scraped the pumpkins and then just gave the boys one each, I drew a simple face on each and Isaac and Seth carved them. Eli was in on it all and thinks he helped but he was a bit little to do much but sit on the table getting in the way and being delicious.
Isaac is so proud of the Jack O' lanterns....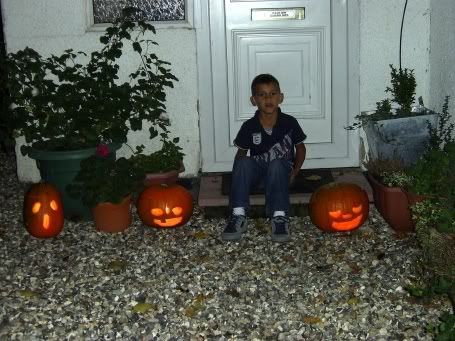 I am pretty confident that it will be a lovely party, not nearly as grand as last year but every bit as much fun, there have been many requests for the doughnut game.....so we'll do that one but apart from that it'll be a case of kids just doing what kids do, grown ups enjoying some company and food and then home again home again. Happy kids and the Family get the kudos for halloween again. I love being known for having fun and opening our home to people. I also like that now I have almost overcome my hatred of this house and have actually invited people in, they are complimentary....I still feel surprise about that until I remind myself that it probably DOES look quite nice now and it's clean and has us in it. What's not to love??
The more good people we have here, the more fun, the more laughter and joy, the further away those miserable vibes go. It is beginning to be a happier place.
Labels: fun, just stuff. Halloween.