Pictures, don't you just love them?
This was my front room last night, at midnight.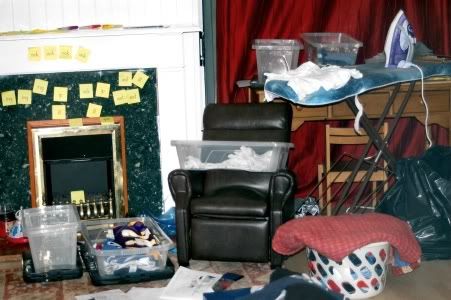 I dragged all the lau
ndry
, clean, ironed,
unironed
, not even folded, clothes, bedding...all of it into the front room because I could iron it and pack it, in handy
rubbermaid
type boxes and put it all right into the laundry room / airing cupboard/ middle of the hallway at the new house. Such a good plan.
Then H came home with the keys to the new house and that was SO much more exciting, must go NOW, must leave and have fun in the nice house, leave this cruddy old stink hole. So I did.
By the time I got back at 8pm, my bones ached, my hair hurt, my disposition was less than cheery. So at midnight it was still like that.
Today was a new day, filled with much business and stuff.
The only difference between last night and now, is that we have added dirty and discarded school uniforms, a few pairs of shoes and
yoghurt
splops
.
The new house is lovely though. It wasn't so lovely, especially the cooker.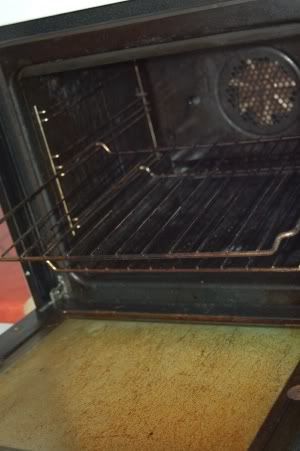 See what I mean, I know I am wont to exaggerate at times in order to make a dull story sound thrilling, or funny but I wasn't when I said this stove was revolting and cross making. Why do people not clean their stoves? I mean no-one likes doing it but what makes people think someone else will enjoy cleaning it when they have made it look like this?
Also, do you know that when your oven is dirty it throws your cooking all out of whack. Bake a cake in a dirty oven and it'll be uneven and
burn
in places and be raw in others. There now, that was almost a public service announcement on behalf of the renters who have to clean up after dirty buggers association. You're welcome.
But now...well now new house is pristine and beautiful and shiny. I set the heating and worked out the boilers, my husband and I worked in quiet
coupledom
making it
gloriousness
itself.
Look!! On the side in the kitchen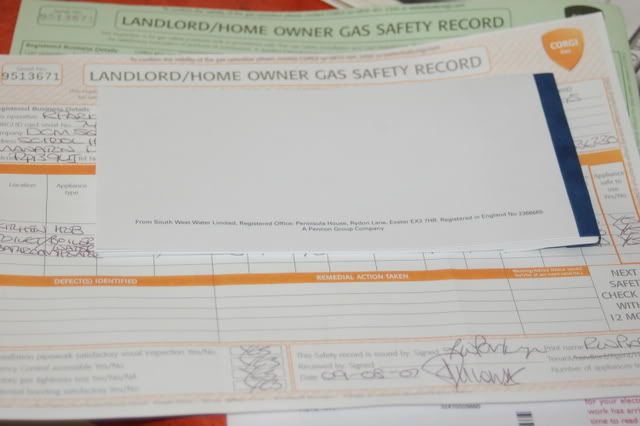 Safety check certificates, you know, like you're supposed to get when you rent a house!
This evening Isaac and I took a whole load of boxes 'round and filled the kitchen cupboards, brought the boxes home to fill up again.
Tomorrow,I am paying the final £670.50 and we can keep the keys, which means we can go for broke and take as much as we can fit in our car around, making
monday
all the more smooth and
unstressified
( can you imagine what spell check makes of my blogging effort?)
H and I have decided that when we are on lovely new home we will come back here on
tuesday
and have a clean, not a
scrub
fest but a vacuum and floor swiping day. Several good reasons, we want to hold our heads up high, know that we behaved with integrity, we also think that when she comes over here to check it out, she is much more likely to feel obliged to return that deposit than if we leave a mess behind us.
What we won't do, is work to make it smell good. I want her to be hit by this acrid stench when she walks in. I want her to know what we have had to live with. I want her to see little puddles on the floor ( although we have had 3 blissfully dry and sunny days, ) I want her to have to breathe through her teeth when she walks in the hallway, bathroom and especially the playroom.
I am going to strip the lino out of the bathroom so she can't pretend that rotten hole isn't there.
I am leaving the oven because I am all black and baked on
grimied
out. This one is just not worth cleaning.
So, happy day. May there be many more of them.
Oh before I go, Jordan and Mel were looking at funny T-shirts the other day, trying to find one they had seen somewhere ( that was on a baby's shirt and said ' Spit on that tissue and I am so calling social services) and they found this one.....I am so easily amused, this had me laughing for, well so long I am still laughing about it.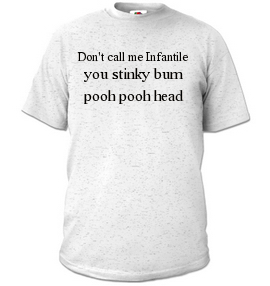 I had an email when I woke up this morning from Jenn, who is my friend.....the title was 'why I like you' and she listed 5 things that she likes about me. Now that is a great way to start the day, it kept me on cloud nine all day.
Thankyou
Jenn.
Thankyou
Julie, who is one of the sweetest and most generous friends anyone could ask for. She sent a gift that made all the difference. People are kind and things like that make me remember just how we have the opportunity to change lives, with even the smallest of gestures.
I believe that when we do what is right, or even when we do what we
think
is right, things have a way of working out for the best. Sometimes it is SO hard to stick to what is right. It just feels so much better to give 'em what they deserve. It would just be so much easier to go with the knee jerk reaction but we only grow when we fight against what comes easiest.
I am ready to start giving more. We go though phases in our lives when we have and some when we need. I am relieved to report that I think we are about to enter a period where we are in a 'have' phase which means we are able to give back some of what we have been given. What a relief that is!
Labels: just stuff.