There's always a but....
So today was one of those days that was all fluffy and dreamlike, where it all seems to have worked out well, to my good. Life is fine.
Dan is down and he and Jordan said that today, dinner was up to them, they shopped and were going to cook, no need to lift a finger and my goodness, they were true to their word. They roped Sophie in as kitchen runner ( for a fee you understand!) she was to clear and run and be general dogsbody because chefs do not do the menial business. Oh no.
It went beautifully,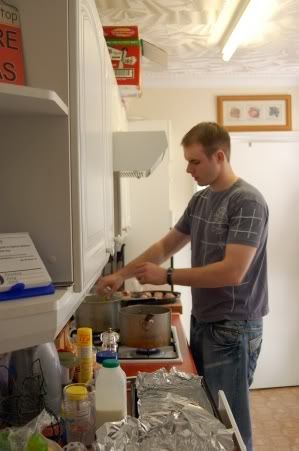 One chef,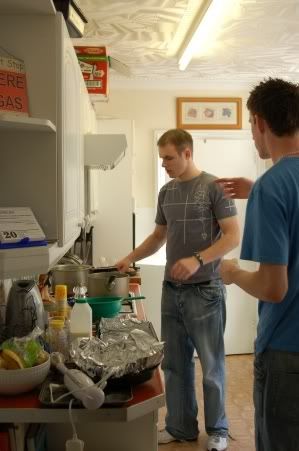 two chefs
and a runner.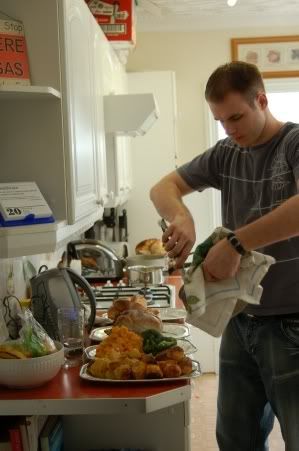 It was so good.
We ate, little people at little tables,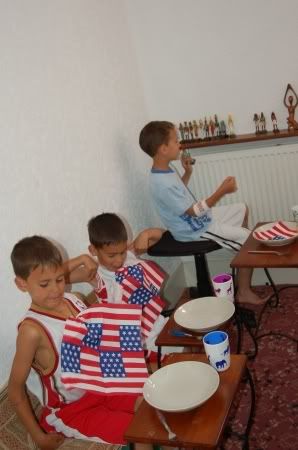 Big people at the big table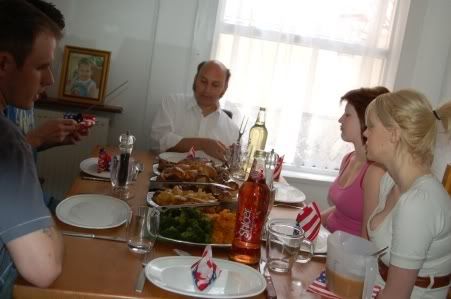 We had good conversation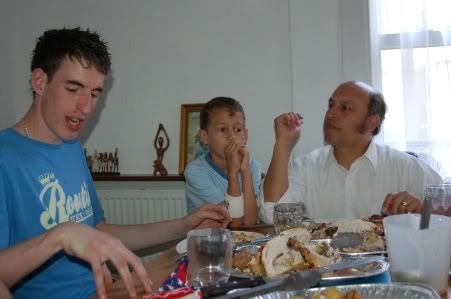 And we had 2 roast chickens, one citrus and one garlicky, roast potatoes, honey roasted parsnips, broccoli, swede and carrots mashed, we had stuffing balls ( sausage meat, sage and onion and raisins) gravy and for dessert we had Lemon Possit, with cherries on the top. Does it all sound too marvellous for words, well it was. I tell you what. Delicious.
I felt a little giddy. I am so used to lovely family gatherings, living at grandpa's house we were always bursting at the seams with cousins and inlaws, friends and neighbours, file 'em in and fill 'em up, that's how we like it. My mum does a great family do, all the kids and grandkids. Heaven on earth I tell you.
What was strange and kept making me feel a bit spaced out and freaky was that I was the grandma, I was the matriarch, the person...the hub.
ME!
That'll make you feel old and also more than a little special and important.
Have no fear though because there is always a 'but'.
The 2 chefs? Totally ruined, completely precious and used to having some poor little school leaver as their pot washer. Now the plan was that Sophie be that person and she did indeed earn her money moving tables, fetching and carrying but we, H and I have a reputation ( he more than I) for being particular about how dishes are washed and being swished about in a sink of of tepid greasy water and then flung willy nilly into the drainer? Won't work in this house, so because the thought of dishes after a roast dinner is enough to stop H enjoying said meal, I said I would do the washing up today .
When I cook, especially a roast, I wash up as I go, I use one saucepan and cook 2 vegetables with it ( boil potatoes, steam broccoli) Chefs, used to having a lackey to wash up, well they could care less. Make a sauce...oh pan isn't big enough let's use this one...uh oh still not big enough. Can you see where this is going?
14 plates.
7 saucepans.
5 roasting dishes.
4 platters,
3 jugs,
2 mixing bowls,
16 glasses,
Every single whisk, fork, knife, spoon in the kitchen.
Sophie cleared the table and piled it all...ALL in the sink and drainer, like some hideous kind of monument to cooking.
It took me a loooooong time to do all that washing up but it was worth it. Today was such a gift.
Oh of course, while the cooking was being taken care of, grandma got to take pictures....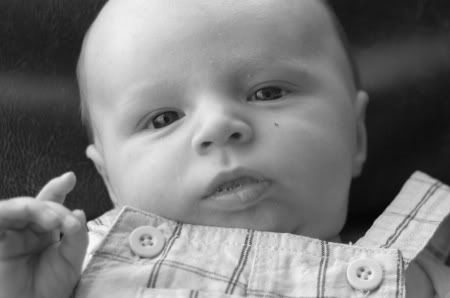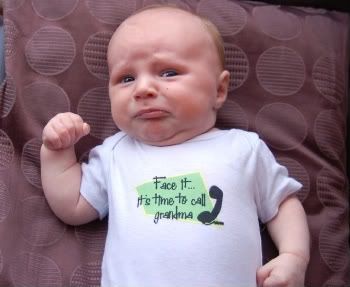 ( I know that's the header picture too but it may not always be so it gets to be in here too, could it be any more perfect with that little curled lip? )
Today was a good day, a beautiful day.
Eli is sick again which is annoying, I wish he could just get well and stay that way, nothing too drastic we hope but the endless sickness that goes and comes back and an ear ache to boot.
Apart from that it has been a glorious day.
We love those. A lot.
Labels: Happy places, happy stuff