Home and dry..or almost.
Grandpa and Kara have landed and are on the coach as we speak, seeing the english countryside through some light rain...typically.
Pauline the repentant Previa is home and sporting a new radiator and matching water pump. She is feeeling all cool and refreshed and although her outside is as rough and scratched as ever, he insides are all sparkly and she has cool clean water coursing through her veins ( or whatever ever cars have.) she behaved beautifully on the drive home and I think I heard her mumble "sorry" , although I can't swear to that as no unusual sounds were heard. I think I just read her mind.
As a reward, for being so humbled, I cleaned out the stuck on lollysticks from her floor and threw away the remnants of 6 breakfast bars, 2 packets of doritos, 3 half empty drink bottles, 17 toys, 9 coats, jackets and sweaters, a pair of football boots, 3 towels, a plate with the last crumbs of H's birthday cake, 3 encyclopedias, a toy laptop and a partridge without the pear tree ( although there was some kind of growth that was beginning to look tree like beneath Elijah's foot place, where the Knobbly bobbly ice-cream had been dropped)
I think Pauline and I are quits. She is sorry for costing me £352 which will take until january to pay back and I am sorry that I have such filthy children who can't help but ooze various kinds of gunge and slime wherever they go. Fair do's.
I was irritating myself today such was my heightened sense of alls well with the world. I could feel myself being overly bouncy and probably loud. I took Isaac out and we spent far too long in Torquay, hvaing travlled by bus....what a treat for a 4 year old, upstairs on the double decker, in the front so we could pretend we were driving. We had lunch and looked at all kinds of cool things, we were tired so we took a delcious nap together, then we got the come and get the car call, so off we went again. We had to go shopping of course for all the things that grandpa likes and pretty tissues for Kara's room. Then we collected Elijah ( " no fankyou, I stay at drammas house, two minutes, I not want a doe home yet. K?) and came home. It is now 8.23 pm...I have done very little and have SO MUCH to do....and I am sitting here because the boys are used to H sitting outside their room ,shhh shhhhhhing them to sleep.
I'm sure neither grandpa or Kara would mind a bit walking into a front room with beautiful art work all over the floor ( Isaac bought glue in Torquay, so he had to make sticky things ) or laundry all over the kitchen....what about the 2 pushchairs in grandpa's room that should be in the car? Kara's room is done, one bathroom is almost done.
Just as well then that the flight was 2 hours late which meant they missed the coach, they get in at 11.30pm, I might just be able to get it looking and smelling lovely by then.......if Isaac stops singing and nods off.
It's pretty much quiet...I have to go. Wish me well and pray for boost of glorious housework buzziness for me. I'd rather be watching Big brother!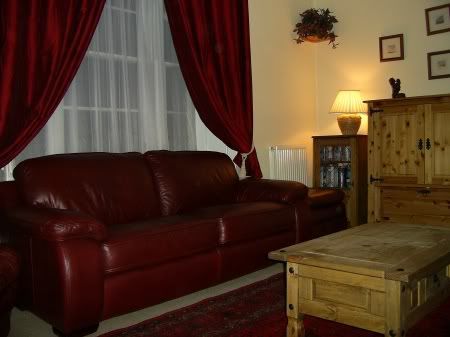 Ahhhhhh..done, come and sit down with me and enjoy the clean and tidy before the crap magnets wake up and turn it into 'home as we know it' again.