What a difference a day makes..... ( part 2 it would seem)
What a day! We DID wake up in time ( 7.30am) for a good breakfast and to get to school on time ( although if I hadn't done so much last night we would have been horribly rushed! )
The boy went to school and even though he had been saying how he didn't want to go to school anymore and staying at home is very good. When we set off he was thrilled, in fact he skipped.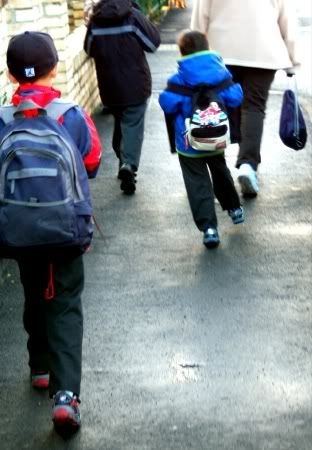 I hated the thought that he would look like a big boy, I know that soon enough he would but I'm not ready, not even close to ready, he looked very little, apart from his ears which I think he will grow into one day. HE ran into the classroom and was just to BUSY having fun to look up, or smile or say goodbye because GO AWAY, only have 3 hours today, must get on, must DO STUFF.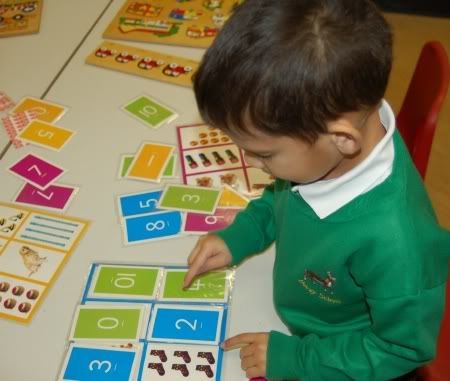 He let daddy help for a moment but then......*sigh* he 'tan do it' easy, numbers, he knows numbers.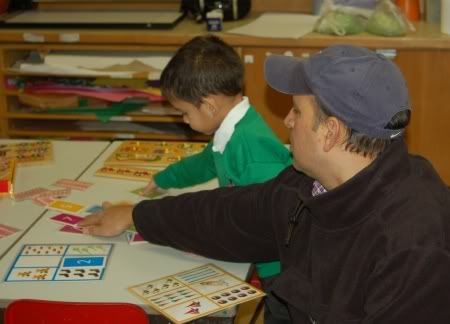 And he really can, he knows numbers.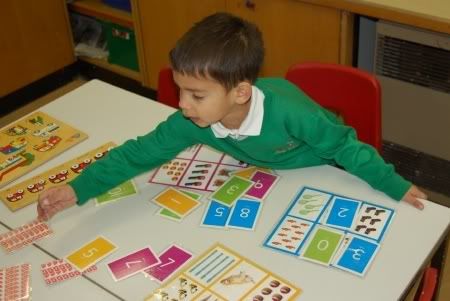 I think school and Eli are going to do very well.
When I picked him up, we went and he had a cake. We walked through town and we went home. Within 3 minutes he was asleep, sitting up.
Before he fell asleep he told me how they don't have snack in his classroom, everyone else does but not his class. Nothin' he doesn't have nothin'.
He has been delicious since we got home, the hussle and bussle didn't suit my boy,he likes it steady as you go, predictable, preferably revolving around him. HE has made us laugh with his sweet disposition lately and the things he says, for instance, at gramma's house last week, ( where he is, quite frankly cock of the walk) he was sitting at the table, waiting for his servant, I mean, auntie Leah to turn on the DVD because she has HIGH SCHOOL MUSICAL 2!!
He has it, because we bought it in the states but it only plays on the laptop and somehow that wasn't the same, he needed the TV, so, waiting and being as patient as a 4 year old can be, Auntie Leah said " Eli, what do we say before we eat our lunch ?" ( meaning bless the food) Eli's reply?
"Hit the play button!"
All ready for bed the other evening we were getting them rounded up and he walked in with a huge plate filled with my Ryvita Rye crackers, some wafer thin ham and a tomato, he must have noticed the look of incredulity on my face because he said " Iss OK! Iss healffy!" Can't really make him put it back when he'd obviously thought it through so well! Also, I just love kids that think for themselves and just get on and do it. Isaac is the same, whereas Seth, oh my goodness, the boy has rubber bones, I swear if he tried to do anything for himself he would just bend into a helpless heap and blame me.
Elijah has rediscovered his groove. The newness of HSM 2 has brought out his swing. I hate to say it but I am a little embarrassed, I know he is littler than a little chap but even so, when he put his hands on his hips, in the middle of town, bent his back backwards and walked with the most pronounced wiggle right along the street I balked. I even told him that maybe he shouldn't walk like that here, because, well.......because but at home? He could walk and dance and wiggle all he wanted. He just does it so WELL and so he is so enormously camp. Dear life.
OK, I just went to you tube and found the song he sings and I can see where the flinging his arms comes from, he also does the arms turning thing and the ...well look for yourself, don't feel you have to watch it all though, I made it through the chorus and then came right back here, where its safe,
He is unique and glorious.( also a little embarrassing in an over the top way for a 4 year old, such stage presence, even in the street!!)
The rest of the day went well too. I went to the County court, the council, the lawyers office, called a lady who deals in housing issues, picked up papers, did more research and felt so powerful because I have already done so many things exactly right. Landlady is in trouble. I can feel a little bit sorry for her because she IS sinking, I know that her business, her houses and her rentals are all falling apart. Who can she blame though? Everything is about money, buy it, chop it about ( badly) to make it into MORE rooms, MORE properties and then fill them. No matter who, no matter how, fill them, take the money and do nothing, don't fix, or check, don't mend or upkeep. All the homes I have seen that she owns are shoddy, even the barn, beautiful as it was and as much as I loved it. The worktops weren't secured, the fridge door falls off, the shower wasn't put in right so it didn't work ( every single house has a shower that leaks, rots the floor and then breaks) the big gates were out on with feeble hinges so they would snap in the wind, no support, the garage doors were the same, one gust of wind literally ripped out 9 inches of wall. She doesn't repair when things break, so they get worse.
She doesn't fix gutters, so the walls get soaked and then damp gets in. She doesn't check the boilers, she has to get them checked when they break and then she ignores the advice when told they are dangerous or faulty.
When floorboards get weak she leaves them when they get damp she leaves them, they rot and it spreads, so instead of one board getting replaced she ends up with a complete floor needing to be replaced, which she can't do so it gets left and then disaster happens. This morning Seth ( 40lbs soaking wet) found it enormously entertaining to jump on the springy floor OUTSIDE the bathroom, so now it has spread way out of the bathroom and along the hallway.
She has somehow had the water drainage fitted so it runs right into the stream outside, that can't be legal can it?
So, much achieved today, more to do tomorrow. My legs ache in a most satisfying yet painful way.
Labels: busy things, Elijah