The Reluctant Rhino
Once upon a time, there was a Rhino, a girl Rhino with very thick skin and a tender heart.
Poor Rhino, shall we call her Pamela?
Somehow Pamela felt dreary and sad and whilst grateful for the many marvellous things in her life, the rambunctious baby rhinos, the sulking somewhat lazy teenage rhinos and the long suffering blame it all on papa Rhino, she still couldn't see the jolly factors in her day.
"Oh Rhino doctor, what can I do? Is there a secret yet smashing rhino remedy that will soften my skin and toughen my heart? "
" No Pamela Rhinocerous, I'm afraid the only thing I can recommend is a stomp around the neighbourhood, put on your new walking shoes and stomp until your thick skin glows and your tender heart pounds."
"Darned Rhino doctor, mean Rhino doctor" said Pamela, who then made the mistake of telling Papa Rhino who smiled and squealed with delight ( yes, papa rhinos
can
squeal under very special circumstances, Pamela was suprised, however, to hear the squeal in the kitchen in broad daylight .)
Ho hum, Pamela grumbled to herself, I suppose now the other Blog writing Rhinos have gathered and pledged stomping sisterhood it is required that I give this a go.
"Oh NO"..she said somewhat unconvincingly, when the skies thundered and lightening flashed. " perhaps I shan't be able to stomp today after all, maybe tomorrow"
But then the heavenly Rhino felt humorous and wiped away the rain and storms and sent some lovely blue sky......
"oooh mama rhino" said baby Rhino " Can me come if I put clodhopping big brothers boots on?"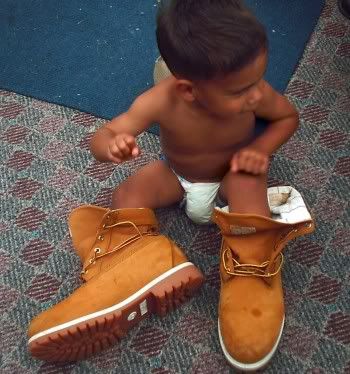 "no my baby, this is something I need to do all by myself, I have to stop being afraid of rhino hunters and scarey people and stomp up some hills all on my own" spluttered Pamela, who hates to admit that she is so frightened of being outside on her own, for even though she is big and tough looking and has thick skin, she has a tender heart that has seen too much sorrow and learnt that the big world outside is a scarey place to be.
Deep breath Pamela.....tie those laces and head out on your adventure.
She headed out of her door, whispering to herself that she needn't go far, just have a fast trot around the houses...up the little lane that leads to the world beyond the door.
"hmmm" thought Pamela " I haven't been down this road before, it looks pretty, lets turn right and head this way.
Oh it's so peaceful in the evening and hey.....it's a treat to be able to walk quickly ( ish) without having to keep stopping and wait for those skittish babies who love to run the other way.
Oooof, bit puffed out walking SO fast but how nice that the heart is thumping because it is being worked and not because it is afraid or sad.....Pamela is a nosey rhino and she notices that she can see in the windows of the little houses as she stomps on by, stomp, wheeze, oof, clump...ooooh nice curtains.....thump, huff, drip....that garden needs some work.....she stopped to look at the quaint Red post box because when Pamela lived in a far away land she missed red post boxes and didn't think the grey mail boxes were quite the same...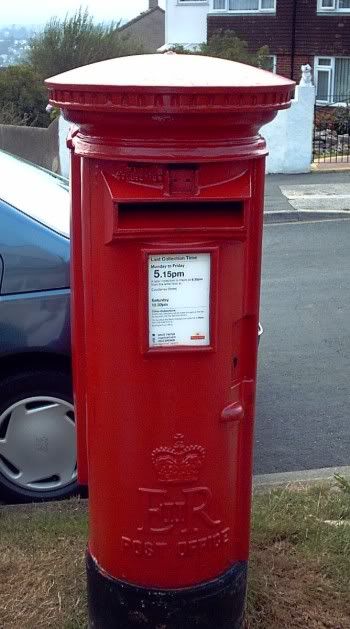 The sky was still blue but Pamela's lungs were by now making a strained kind of hoofing sound and they felt quite stretched, unaccustomed as they were to such vigorous bellowing actions......so Pamela threw herself into one final spurt of determination and headed for home. The final stretch was UPHILL..yes, UPHILL. Hoorah. The reluctant Rhino had done it, faced the world without the protection of papa Rhino or the metal box thing on wheels...no pushchair to hide behind, nobody and nothing but herself, her thick skin and her tender heart that sang, just a little bit.
Pamela enjoyed her adventure but is quick to say that although she will be obedient and will stomp til her heart sings louder, she would still probably enjoy a safe sort of hide away somewhere. Never mind Pamela. Tomorrow is another day.